Sail away: jetting around on Alen's new yacht 55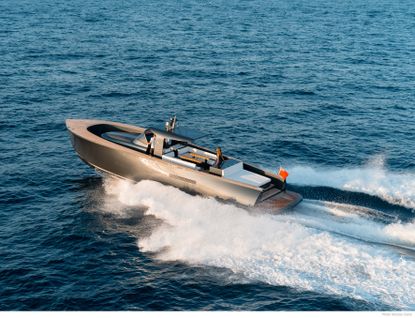 (Image credit: press)
The mere challenge of keeping a vessel afloat can often lead to a whole host of practical requirements and restrictions; ticking all the boxes while creating a product that is also aesthetically pleasing calls for the same level of attention and expertise as building on an especially tricky site on dry land. So when a noteworthy boat concept makes an appearance on our radar, we can't help but sit up and pay attention.

The Alen 55, a 16.80m-long yacht, is the successor of the Turkey-based company's previous model, the 42. Light and flexible, the 55 was created by the company's in-house creative team and does not require the presence of a crew in order to be taken for a spin. This multifunctional nautical delight ensures that sailing is safe for both adults and children, securing the upper deck with deep bulwarks that wrap around its body.

Features include a generous alfresco kitchen unit, accompanied by an 8-seater extending table and a 'walk-around aft sunbed'. The sea is always at a moment's reach, accessible with ease from the yacht's adjacent hydraulic gangway and swim platform.

The Alen 55's clean and streamlined aesthetic means that complex technical features - such as the custom-made anchor mechanism - are cleverly incorporated within the interior design and activated with ease, at the mere touch of a button.

The lower deck holds the yacht's living and sleeping quarters in a surprisingly spacious and serene area. This parts feature teak flooring and leather wall coverings and can be arranged in different configurations, providing its owners with an array of options for entertaining and accommodating guests or crew on its voyages. And of course its high end make means that the Alen 55 can be fully customisable to fit each individual client's requests.
INFORMATION
For further information on the Alen 55, please visit the website