Adler Spa Resort Sicily blends sustainability and relaxation
Adler Spa Resort Sicily by architect Hugo Demetz opens in southern Italy, championing sustainability and relaxation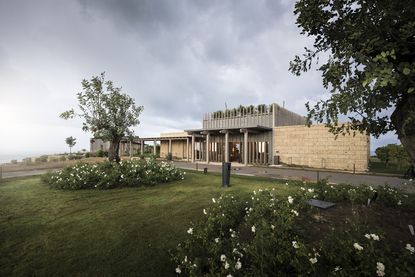 (Image credit: Alex Filz)
For the new Adler Spa Resort Sicily, Italian architect Hugo Demetz was tasked with designing a scheme that would exploit the views of the surrounding natural landscape, while blending into the scenery. 'Bio[philic] architecture was the only way forward,' says Adler co-owner Franziska Sanoner, whose family has developed the brand over generations. The resulting collection of mainly single-storey structures includes 90 guest rooms, each complete with a private terrace accessed via sliding glass doors. The set-up encourages visitors to recharge and captures the essence of the slow travel movement. Spaces inspire guests to embrace the calm and secluded location and the resort's ethos of al fresco living.
Step inside the calming Adler Spa Resort Sicily
Built upon the idea of sustainability, the resort features walls clad in natural unbaked Sicilian clay. The material was chosen for its natural damp-control properties. Elements of one of the island's most iconic sites can also be found in the wall structure; tuff rock, which is formed from volcanic ash and sediments, and has been sourced from Mount Etna. The rock naturally helps keep the internal spaces cool in the summer and warm in the winter.
Locally sourced Sicilian cedar wood is used to create a series of external terraces and provides natural shading in the form of the brise-soleils. The timber material also covers most of the internal floors, but elsewhere you'll also see appearances from opus signinum – a cement-free biocompatible mortar that features crushed brick. This extremely resistant and waterproof material harks back to the Roman era, when it was successfully used for hydraulic pipes and to pave streets, some examples of which impressively remain today.
The design plays with the boundary between the interior and exterior; internally, a calming water feature flows through the communal areas and restaurant, drawing the eye through the building and out towards a view of the skyline meeting with the sea.
Located in an area of outstanding natural beauty in south-west Sicily, chosen by the Sanoners, this is the perfect holistic retreat, designed to promote wellbeing and revitalisation. The external spaces celebrate the tranquil surroundings, and benefit from uninterrupted views of the Mediterranean sea. Guests can fill their days with spa therapies, yoga classes and wellbeing treatments, and they can explore the communal gardens or the bordering Torre Salsa Nature Reserve.
While the design tends to keep things natural, modern technology features, such as the latest heat pumps, which recover and redistribute warmth around the building, elevate the whole. Electric cars and bicycles are also on hand to transport guests around the surrounding areas. However, with two on-site restaurants serving seasonal dishes, three pools, and direct access to a private beach, there's really no need to leave.
demetzarch.com (opens in new tab)
adler-resorts.com (opens in new tab)