Golden age: high jewellery takes its lead from ancient armour
High jewellery designers take their lead from ancient armour motifs to create a feast of striking pieces with a romantic element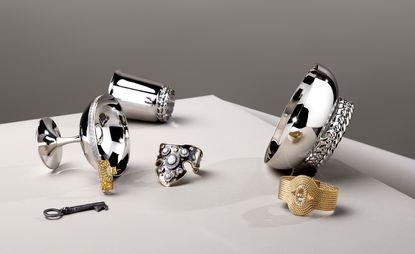 (Image credit: Philippe Lacombe)
Armour has been prevalent in fashion and design culture this year, with Balenciaga unveiling an armoured ballgown at the Paris couture shows in July, while Rabanne riffed on its signature chainmail dresses. And if you look at current jewellery design, you'd be forgiven for thinking that the world of precious metals and stones is only following suit after clanking suit.
You might argue that there's more than a whiff of the medieval doomsayer about it all, but take a closer look and a more romantic tale emerges. Dior's knuckleduster ring, Hermès' gold chainmail cuff and Elie Top's distressed silver, gold and gemstone bracelet all come with a dreamy element. While Top cites the intricacies of gothic metalwork as a recurring reference in his creations, it was not Joan of Arc who struck a chord when creating his 'Bouclier' (shield) collection but another fearless protester named Joan.
'I remember listening to the plaintive guitar and liquid voice of Joan Baez in Queen of Hearts while I was designing 'Bouclier',' he says. 'It's a traditional folk song that sounds like a mix of legends, from Arthurian tales to Elizabethan queens. The cuff is like a form of jewelled protection, but it has a sweet floral engraving on the underside, so it's romantic, too.'
Pierre Hardy, creative director of Hermès Jewellery, enjoys playing with the house's signature chaîne d'ancre (anchor chain), which made its debut as a silver link bracelet in 1938. With the 'Chaîne d'ancre Danae' cuff, he has created an illusion of reams of nautical chain welded together to make a rigid form. The scale of the large central link, he says, is 'either discreet or assertive, like a distinctive seal'.
Meanwhile, Dior Fine Jewellery's creative director Victoire de Castellane embraced ancient relief techniques for her 'Les Jardins de la Couture' collection. Among a sweet bouquet of horticulturally-inspired creations is a shield-like ring that caresses the fingers in a flash of gold, its mystical skyline highlighted in relief, blazing across the hand like a miniature piece of Aztec armour.
A version of this story appeared in the December 2023 Entertaining Issue of Wallpaper*, available in print from 9 November, on the Wallpaper* app on Apple iOS, and to subscribers of Apple News +. Subscribe to Wallpaper* today!
Receive our daily digest of inspiration, escapism and design stories from around the world direct to your inbox
Having worked as a journalist and editor for titles such as British Vogue, Vanity Fair and the Daily Telegraph, Caragh McKay became Wallpaper Watches & Jewellery Director in 2012, before branching out a few years later as an independent creative director in the luxury arena.