There's mathematical thinking in Riia's Modular ring cycle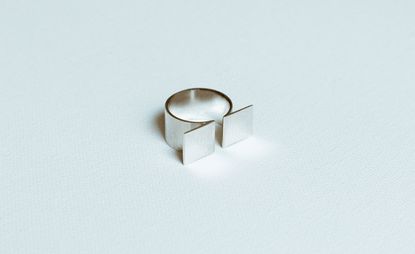 (Image credit: Riia)
'I wanted to create an image of deconstruction,' says Ukraine-born, LA-based Valerie Chaika – founder of Riia – of its 'Modular' ring series. Viewed individually, pieces in the six-piece recycled sterling silver collection include a ring with a chunky orb detail, and a band with a splice of metal missing. But when viewed as a whole, they are seen to stem from a single shape, with graphic elements emphasised, reduced or repeated.
The series was born after Chaika sketched 'Modular Ring No 6', an orb encased within the walls of a silver band, based on the idea of 'putting a sphere on a ring in a non-conventional way.' She reduced the walls around the ring for the fifth design, placing it atop its band, before beginning a process of 'bending' and splicing until she reached 'Modular Ring No 1' – 'the last ring left in the raw' – which reveals a thin sliver of skin.
'The results reflected an intuitive design process' says the self-taught painter. She launched Riia in 2017 in a bid to design pieces with an element of interaction, and work on a smaller scale. 'I am fascinated by geometric objects and their contact with natural forms like the body and space.'
Chaika cites Malevich and Rodchenko's monochromatic and shape-focused aesthetic as an enduring influence, plus the angular creations of Donald Judd, and Richard Serra's undulating forms. 'Post-Minimalism really broadened visual language,' she adds. The digits which convey the deconstructed narrative of Riia's Modular Ring series, also really add up.
INFORMATION
For more information, visit the Riia website (opens in new tab)