Nadine Ghosn's playful jewellery designs pop up in Mayfair
In a pop-up until 30 October 2022, and in line with the Nadine Ghosn's collaboration with Frieze London 2022, Matchesfashion is showcasing three of her playful jewellery collections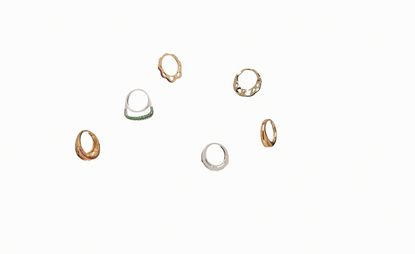 (Image credit: courtesy Nadine Ghosn Fine Jeweller)
Nadine Ghosn's jewellery designs toe the line between playful and high-end luxury, with a repertoire featuring diamond-studded earphones and edamame pods coated in tsavorite. For this crystalline partnership, Ghosn will be showcasing three key collections – 'Vie Collection', 'Too Cool 4 School' and 'Building Blocks' – at Matchesfashion's Mayfair Townhouse and online.
As well as the extravagant pieces on display with Matchesfashion, Ghosn has designed the wristband for Freize 91 members attending Frieze London 2022. The band takes inspiration from the 'Too Cool 4 School' collection, in particular the whimsical 'Pencil Bracelet' (with a diamond-studded 'nib'). 'Like art, jewellery captures moments in time, stories and creative expression,' says Ghosn, and for her, the collaboration with Frieze was a moment to 'highlight the diversity and creativity celebrated throughout' the arts festival.
Ghosn explains how she mulls over concepts: 'I spend a significant amount of time studying the process until the final product truly aligns with what I envisioned.' This attention to detail is apparent in both the physical forms and the premise of her pieces. The 'Bic Bracelet' and 'Paper Clip Sautoir' induce school-day nostalgia, and together with the 'Bling Mac' stacking rings (paradoxically, in collaboration with McDonald's) and solid gold bracelet reminiscent of a bike chain are everyday items that Ghosn has celebrated through high-end jewellery.
Similarly, the 'Building Blocks' collection nods to square toy blocks; the signet-style rings and a solid quartz or diamond encrusted ring are chunky and tongue-in-cheek. It's easy to imagine that Ghosn sees the world through diamond-lensed glasses – adding layers of decadence to ordinary objects as she sees fit and 'challenging the boundaries of what is expected in the jewellery world', as she puts it.
INFORMATION
matchesfashion.com (opens in new tab)
Martha Elliott is the Junior Digital News Editor at Wallpaper*. After graduating from university she worked in arts-based behavioural therapy, then embarked on a career in journalism, joining Wallpaper* at the start of 2022. She reports on art, design and architecture, as well as covering regular news stories across all channels.