Milan time: Hublot, Rubinacci and Lapo Elkann mark a horological moment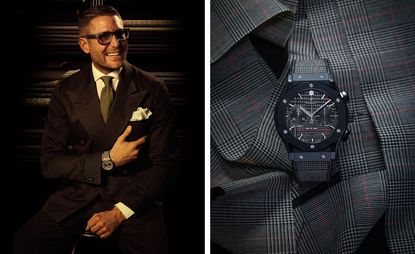 (Image credit: TBC)
As we are prone to set our clocks for the annual occurrence of Salone del Mobile, we deemed it the right moment to celebrate a suitably Italian horological collaboration: the Hublot (opens in new tab)Classic Fusion Italia Independent collection.
Milan was chosen by Hublot as the host city for its latest Art of Fusion line launch earlier this year. A collaboration with Fiat scion and industrial designer Lapo Elkann and the famed Neapolitan tailoring house Rubinacci, the result is a unique suite of classic Hublot Fusion timepieces with dials and straps created using classic, woven cloths.
'When Hublot and my Italia Independent team started thinking about the idea of working with cloth, we thought there was no better family and tradition than Rubinacci – a three-generation business – as a partner. We were right because when I was invited to their bank vaults, they were not filled with money or diamonds but cloths. They have one of the most interesting fabric archives in the world – the possibility of choice was endless,' says Elkann.
Having had the chance to delve into Rubinacci's fabric archives, Elkann asked Luca Rubinacci about a particular collection of tartan and check weaves from the 1970s, including houndstooth and Prince of Wales varieties, which are now re-interpreted in the 45mm watch designs, on the dials and straps.
'These are the fabrics that we use for the suits that we make for Mr Elkann,' says Luca Rubinacci, 'but I didn't think that it was possible to put wool on the straps and dial of a watch. Not only did Hublot manage it, the result is better than I could have hoped for. We have achieved a balanced watch, with a pattern effect that is neither too bold nor too light.'
It's this tendency towards materials experimentation that makes Hublot such an innovative industrial player, regardless of the fact that its business is watchmaking. As Elkann says of his ongoing collaboration with the marque: 'They make the impossible possible. It's not just about developing a product, we have the chance to develop a world.'
INFORMATION
For more information, visit the Hublot website (opens in new tab)