Light as air: Hemmerle enlists Tom Postma for Masterpiece London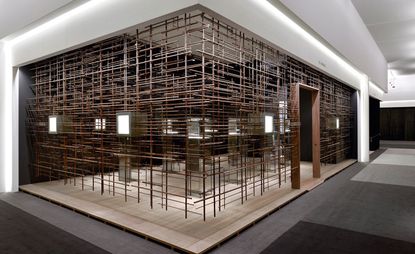 (Image credit: Photography courtesy Hemmerle)
This week, along with its latest one-off high jewellery creations, Hemmerle reveals a beautifully considered new booth to exhibit them in at Masterpiece London. Created in collaboration with Dutch architect Tom Postma, the 10.5m x 6m booth is constructed of 16 4.5m screens, fashioned from over 3,000 American walnut wood rods interlocked with 16,500 uniquely sized aluminium tubes.

'We wanted to create a space with a lighter appearance, transparent yet with an inviting and warm atmosphere,' says Christian Hemmerle, co-owner of the house that bears his name.

It took Postma, who also counts TEFAF Maastricht and Art Basel as clients, a year of constant trial and error to finalise the design. The result makes a point of architectural difference to the uniform avenues of exhibitors typical of most art fairs.

Indeed, the result is a refreshingly airy structure that brings a particular light to the jewels it serves to augment, while further highlighting Hemmerle's signature use of colour.

On show this week are an eye-catching copper and white gold bracelet with fiery garnets, and bold tourmaline and sapphire earrings, among other precious pieces.
INFORMATION
Masterpiece London is on view until 6 July. For more information, visit the Hemmerle website (opens in new tab)
Photography courtesy Hemmerle