Building blocks: Jo Hayes Ward squares up a new jewelled geometry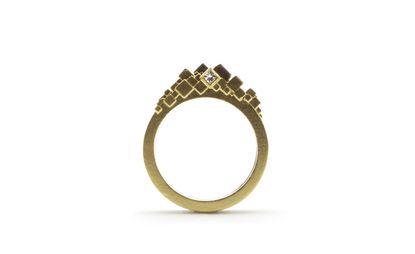 (Image credit: press )
Silversmith-turned-jeweller Jo Hayes Ward (opens in new tab)'s intricate geometric facets have become her trademark since she launched her eponymous line in 2006. The craftswoman uses tiny squares, hexagons and cubes of precious gold and silver - 'building blocks,' she says - to construct sculptural rings and earrings with a textured finish. The result is surprisingly delicate considering Ward's urban influences: 'So much of my inspiration is London - the sprawling nature of the buildings, the changing skyline.'

Her Cushion ring perches on the finger like a miniature city, assembled from teetering columns of gold cubes and the odd brilliant-cut white diamond. Flatter, more two-dimensional rings become building blocks in their own right as they are designed to be stacked by the wearer, studded with tourmalines and sapphires.

Ward only recently began working with coloured gems and picks imperfect stones speckled with salt and pepper inclusions: 'People are now more open to what were traditionally seen as bad quality stones. I prefer smaller stones that work around the metal, but with larger stones I cut them to give a pixelated look that matches my aesthetic.'

Texture has become another of Ward's signatures as a direct result of the machine process she relies on for her complex jewels. Too intricate to make by hand, each and every piece is printed in wax on a rapid prototyping machine before being cast into metal. Such printers are usually used to make a single master but Ward's jewels are so precisely engineered that too much detail would be lost. Thus a new wax is made each time, and leaves a light etching of fine lines across the surface of the gold. 'My work looks at how the angles of the facets can use machine marks as an aesthetic,' says Ward. 'Textured metal reflects light as luminescent rather than shiny so the pieces really come into their own when worn.'

Her newest collection, Stratus, includes teardrop earrings made of a curtain of faceted gold squares that shiver gently with the wearer's movements. A subtle frame of pavé diamonds surrounds the studs but for Ward, a former welder, the metal takes centre stage.