The China List: Alexander McQueen, Fashion
Wallpaper* and China's Cultural Heritage and Sustainable Development Fund (CHSDF) present China By Design—a celebration of Chinese cultural heritage and the many global creatives who have been inspired by it.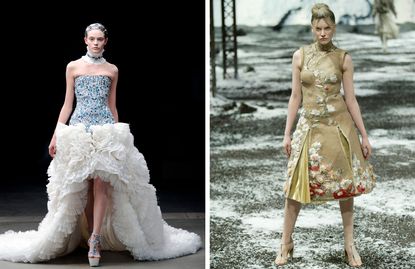 (Image credit: press)
Rawness and romanticism were two tenets of Alexander McQueen's design philosophy. But also integral to the designer's aesthetics was a type of Eastern exoticism, with qipao dresses, bird, floral and dragon motifs, and shimmering gold embroidery all featuring heavily in his genre-and-era-crossing collections. McQueen's S/S 2001 Voss collection referenced Chinese garments and adornments, such as an opulent raffia coat embroidered with chrysanthemums in gold, red and black silk, while his A/W 2003 collection featured a body-hugging gilded jute dress festooned with Oriental blooms. 'I have always loved the mechanics of nature and to a greater or lesser extent my work is always informed by that,' he said.
For the brand's A/W 11 collection, Sarah Burton – who took the creative reigns of the label in 2010, after Alexander McQueen's untimely death – looked to the blue-and-white tones of Ming porcelain as inspiration. Burton took ten hand-painted porcelain plates, which were smashed into fragments and then pieced together to form the mosaic bodice of a dress, accompanied with a frothy undulating skirt formed from folds of organza. Renowned for incorporating unusual, delicate materials into its designs, such as the dresses crafted from razor clams and oyster shells in S/S 2001's Voss collection, the London-based label is sure to continue to look East for inspiration.
INFORMATION