Cluster of charming Arno River farmhouse conversions
This clutch of traditionally renovated mills, farm houses and villas near Florence offer a spot to explore the local wine region and ancient city beyond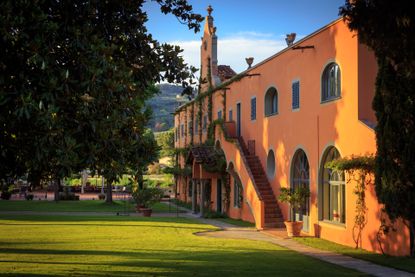 (Image credit: press)
Villa La Massa sits on a pleasing kink of the banks of the Arno River, 4.5 km to the east of the city of Florence, an ideal location for visiting both the historic centre of Florence and exploring the neighbouring Chianti wine region for visits to the tenute or estates of vintors such as Frescobaldi or Castello di Nipozzano. Staying just out of town offers the best of both worlds, Florence is a city so small that within 15/20 minutes by cab or hotel shuttle you can be smack in the centre of town in Piazza Signoria. More adventurous guests can also cycle along the banks of the Arno on the hotel bikes, also around 20 minutes.

Villa La Massa dates back to 1525, built first as summer residence on the banks of the Arno, in 1953 the villa was turned into a hotel and in 1998 it was bought by Villa d'Este. Today after substantial renovations and landscaping work, the hotel has 51 rooms and suites plus three residences spread across six buildings set in charming grounds. The Villa itself has 21 rooms, plus the Molino, a 15th century mill with nine rooms, the Casa Colonica, a converted farm house that now has four suites, the 17th century Limonaia with two suites and eight rooms, The Villino with 7 rooms and suites and the 18th Century Villa Hombert which contains three residences, with one or two bedrooms and fully equipped kitchens and living spaces. Both Villino and the Casa Colonica, can be booked as a whole for a family or group of friends.

After a morning exploring in town, head back to the hotel, take lunch indoors or outside at the L'Oliveto bistrot and then relax beside the brand new 20x10 metre pool, or take a sun lounger under a tree and relax and enjoy the 25 acre estate. An aperitivo can be taken inside at the Medicean bar or outside in the riverside courtyard. For dinner dining at Il Verrocchio – where tables on the terrace overlook the Arno and the hills of Chianti Rufina – a view is hard to improve on.

Florence is an ancient city, there are few modern hotels of note, the decor here is classic, yet is restrained without the usual heavy Florentine flourishes. Room and suite layouts are very well planned, very comfortable and the quality shows. Today, Villa La Massa is a welcome addition to the hotel offer in town, alongside the likes of JK Place, The Four Seasons and Villa San Michele. Staying just outside the city does offer the best of both worlds.