Lux* — North Malé Atoll, Maldives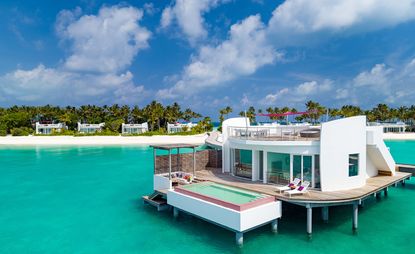 (Image credit: TBC)
The new Lux* North Malé Atoll resort hovers above the turquoise waters of the Maldives like a whitewashed mirage. In place of the traditional Maldivian thatched huts are 67 contemporary villas designed by Singapore-based Miaja Design Group to answer the question: 'If James Bond escaped to a luxury retreat after his adventure, what would it look like?'
Superyachts and Riva boats influenced the villas' billowing curves, teak decks, and the rope-adorned custom armchairs parked on the prow-shaped sky deck. Decorating the light bedroom and high-ceilinged lounge are paintings of coral, sea-grey vases and graduated blue rugs that invite the ocean in.
The underwater/overwater theme continues in the cavernous, concrete-tiled bathroom with sweeping Kohler fixtures, a mother-of-pearl salt jar, and a centrepiece bathtub that looks like a pot half thrown. Fuchsia accents – from the beads in the shell wall art to the tiling of the private infinity pool – evoke South Beach art deco.
In the north of the world's flattest country, the resort highlights include its overwater spa with treatment tables offering a view of the iridescent marine life through a glass panel in the floor. Of the several excellent restaurants, perhaps the highlight is INTI. Serving Peruvian-Japanese fusion, expect sharp tiraditos (Peruvian sashimi), rich meats, and wine decanters the length of 007's spear gun.
ADDRESS
Olhuhali
North Male Atoll Maldives