The Millennials Shibuya — Tokyo, Japan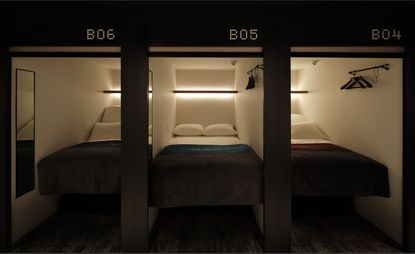 (Image credit: Deby Sucha)
Japan's famous capsule hotel concept has just been raised a notch with the launch of The Millennials Shibuya, a new property with six floors of 120 high-tech multifunctional 'smart pods' designed by local creative outfit Tosaken.
That means each perfectly formed capsule comes with a reclining bed topped with dreamy Serta mattresses – that also lift to double as a storage compartment – while everything can be controlled using and integrated iPod system. Some pods even have pull-down screens onto which PCs can be projected for private film viewing.
A key attraction however, is the fifth floor, which is home to 20 Art Pods. Here, a different artist, designer or illustrator has been commissioned to transform the walls of the capsules, resulting in a series of colourful options. 'We wanted to showcase the charm of Tokyo through the eyes of 20 very different creatives,' explains Risa Nakazawa, curator of the art pods project and founder of The Bees Knees agency. 'The brief was very free... Japan is known for its small houses, so I think we have a good understanding of how to use small spaces efficiently'.
And so, there are abstract monochrome loops and sunshine yellow splashes by artist Shinpei Onishi; bold, clean-lined drawings by British illustrator Andrew Joyce; and a snappy 'Try counting sheep, have a tight sleep' slogan by Yusuke Kaneko.
Following the opening of the group's first Millennial property in Kyoto last year, the Tokyo iteration also has co-working spaces, a 24-hour lobby-lounge, shared bathrooms and a boutique selling artist-designed T-shirts and branded hot water bottles.
'We really wanted to be right in the middle of the action here in Shibuya,' explains Takeshi Yamasaki, CEO of Global Agents which owns the hotel. 'The hotel is called the Millennials after its target market. We expect lots of internationally minded digital visitors in their twenties, thirties and forties to come and stay.'
Plans are also underway to open 10 new hotels across Japan within three years while the possibility of expanding abroad is also being explored.
ADDRESS
1-20-13 Jinnan, Shibuya-ku