Aldo Rossi's Hotel Il Palazzo in Japan gets 21st century makeover
Uchida Design Inc refreshes Hotel Il Palazzo in Japan, which was originally designed by Italian Postmodernist Aldo Rossi in 1989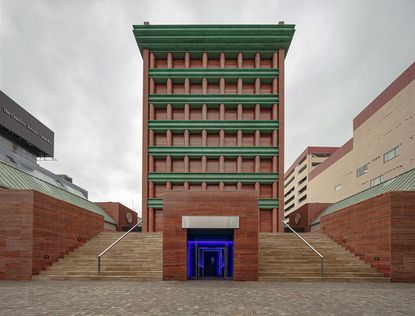 (Image credit: Satoshi Asakawa)
In Fukuoka, situated in Japan's far west, Aldo Rossi's Hotel Il Palazzo still stands today — and it is just as otherworldly as when it was first built in 1989.
34 years later, the building finds itself under its third ownership since its founding, with a redesign launched by the hotel's original interior design studio, Uchida Design Inc, who centred their approach on 'softness and natural materials'. Established by the legendary late Japanese designer Shigeru Uchida, the studio is now led by Kiyoshi Hasebe — who worked closely alongside the founder and stands as studio director since Uchida's death in 2016. He said: 'We recognized that what was expected of us was to create a new inheritance for the current era rather than fragmenting the original concept. The first thing we did was to dig up the various materials that remain today to organise and understand the thinking and ideas of the time.'
Updating Aldo Rossi's Hotel Il Palazzo
When it first opened, Hotel Il Palazzo symbolised a new epoch in Japan, merging Eastern and Western design values, even being referred to as Japan's first boutique hotel. The building's iconic facade is comprised of marbled red Iranian travertine and vivid green chemically-aged copper lintel with a large, open piazza in front. Rossi's concept took inspiration from Venetian palazzos, Parisian Haussman architecture and Nishi Hongan-ji, a traditional Japanese temple in Kyoto.
Conceptually inspired by the movements of Milan's Memphis Group and Studio 54 in New York, Il Palazzo was conceived during Japan's late-80's bubble era where architectural extravagance reigned supreme. The hotel featured a primary volume that connects to two adjoining structures housing restaurants and bars, and designed by Gaetano Pesce, Ettore Sottsass and Shiro Kuramata. Shigeru Uchida was appointed on the hotel interior, whilst Ikko Tanaka oversaw its visual identity.
Initially envisioned as an extensive district development, the Italian architect's grand plan blurred public and private space with numerous exterior walkways, aiming to create 'new experiences' for not only staying guests, but the wider public too. It initially intended it to extend to the waterfront to demonstrate the power of 'architecture as a small city.'
Uchida Design Inc. first approached the design by creating the hotel's new entrance, accessible from street-level through the former disco's tunnel entryway. Engulfed in a vivid blue light, it is bold and eye-catching — a stark contrast to its environment — just as the designers intended. The entrance guides guests through to an elevator leading to the main lobby, restaurant, bar and lounge area now occupying the former disco in the basement. Utilising the expansive space's tall span and grand columns, the interior features a reinterpretation of vivid hues — an homage to the original design's key use of red, green and blue.
An interplay of light and shadow is found throughout the interior, yet guest rooms were intentionally designed in muted tones of cream to provide a more sober, private respite. 'The rooms are composed of natural, gentle colours and indirect light, rather than shadows and depth,' notes Hasebe.
In the restaurant, Shigeru Uchida's water sculpture 'Dancing Water' sits central, refracting light and water onto the ceiling creating spatial dynamism. The studio designed new furniture (all in direct reference to former Uchida designs) focussed on a diversity of textiles. Hasebe explained: 'The overall feeling is based on a combination of tonal painting, soft indirect light, and various types of lighting, with natural wood flooring on the floor, shimmering water in the water basin, and permeable curtains for the partitions.'
The studio ensured that the iconic building's history was interwoven into the space. Guestroom hallways feature the hotel's original lighting from 1989 — spotlighted onto the arched ceilings. Rossi's original architectural sketches are fragmented onto hallway mirrors, positioned alongside a bright red standing clock designed by Uchida and titled 'Dear Morris'. It is named in honour of Morris Adjmi, Rossi's long-term architectural assistant who oversaw the Japanese build.
Future plans include utilising the front piazza to host community events and a farmers market in line with Rossi's initial desire to create a borderless space. As Rossi noted in 1989: 'Something like the Palazzo can't be built upon nothing. Its beauty stems in part from the everyday life that surrounds it, and how the poet expresses the passion.'
Receive our daily digest of inspiration, escapism and design stories from around the world direct to your inbox