Monument men: chef Thorsten Schmidt and Snøhetta remodel the house where Noma lived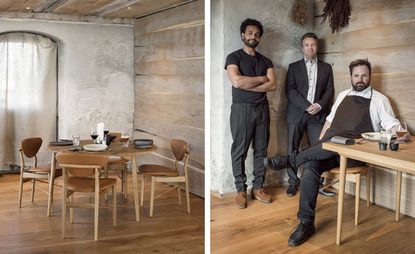 (Image credit: Lassee Bech Martinussen)
Left, the new dining room is furnished with '108' chairs, by Finn Juhl; 'Riverstone' tables, by Jonas Lyndby Jensen; and curtains made of 'Daybreak' fabric, by Patricia Urquiola for Kvadrat. Lining the walls and ceiling are bespoke wooden elements, carved by local carpenters Malte Gormsen. Right, lead interior architect Peter Girgis, of Snøhetta, Barr managing director Thomas Møller Jensen and executive chef Thorsten Schmidt at Barr.
Strandgade 93, Copenhagen is perhaps the most illustrious address in contemporary gastronomy. In the 18th-century warehouse with a façade of whitewashed brick, and views of the city's inner harbour, lies the HQ of Noma, a family of restaurants that has pioneered the New Nordic movement, and incubated more international culinary talents than anybody except the now-defunct El Bulli. The first floor currently houses Noma's office and test kitchen, led by co-founder and head chef René Redzepi, while the ground floor was for 14 years home to its eponymous flagship restaurant. Until February, that is, when the restaurant closed its doors and affirmed its plans to reopen near the roughand- tumble neighbourhood of Christiania by the end of the year (a seven-week pop-up ran in Tulum, Mexico in the interim).

While fans have trained their eyes on this audacious act of reinvention, another new member of the Noma family has been quietly in the works, set to occupy the hallowed grounds of the original restaurant. So far little has been revealed, barring a sign on the front door with the message, 'Something new is cooking here…'. This is something of an understatement given the formidable talents behind the new project – executive chef Thorsten Schmidt, Norwegian architects Snøhetta and serial entrepreneur Thomas Møller Jensen, who has been brought on board as managing director. Come early July, they will be reopening the ground-floor space as a new restaurant, called Barr.
An old friend of Redzepi's, Schmidt is one of the top names in Nordic cuisine. He and his wife, Rikke Malling, ran an acclaimed restaurant, Malling & Schmidt, in Aarhus between 2005 and 2012. Since then, he has consulted, travelled, judged the Wallpaper* Best Urban Hotels awards (see W*174), and even developed a Danish dinner for the International Space Station's astronauts.

'For over a decade now, everybody has been looking to the north, which is very exciting,' says Schmidt in the private dining room of the former Noma. 'Noma created a blueprint, a way of thinking about food, an awareness of our surroundings. It has been hugely influential, but few people are able to experience it. Through Barr, we want to reach out and give access to a broader audience.' Schmidt also aims to bring together different strains of Scandinavian cuisine: 'Right now the culinary landscape is split between the new Nordic and the old-fashioned. But these two are very much connected. As a chef, you should relate to them as one.'
He pulls up a map on his tablet computer that shows the alcohol belts of Europe – each region colour-coded by its predominant alcoholic beverage. Denmark, Germany, the Low Countries and the British Isles form a beer belt, while an aquavit belt encompasses Norway, Sweden and the Baltics. 'Beer and aquavit are in our blood and tradition,' he explains. Similar climates, languages with shared roots and ongoing trade gave rise to common culinary practices, among them salting, smoking, pickling and fermenting. Barr, which means 'barley' in Old Norse, encompasses 'the kitchens of the Northern Oceans', while adding a touch of modern Scandinavian refinement.

This philosophy is reflected in a seasonal, à la carte menu including dishes that some may consider unfashionable – schnitzel, frikadeller, warm smoked salmon. 'If you don't know anything about food, you'll just think that our salmon is tasty,' says Schmidt. 'But if you're a total foodie, you will ask, "How do you keep the moisture? And what sauce do you glaze it with?" By exploring these deeper layers, we ensure the dish is there for the future. My dream is that some of our ideas will end up on family dinner tables.' Reinforcing Schmidt's belief that food and social interaction go together, Barr will have a mix of individual servings and larger dishes intended for sharing, and to encourage spontaneity, some tables will be held for walk-ins. 'It's not about fine dining,' adds Jensen, 'though we are bringing in Noma's intelligence and experience. We're not looking to provide theatre, but rather a great meal, in a great atmosphere.'
Riffing on the theme of a common cuisine for the Northern Oceans, Schmidt and Jensen looked beyond Denmark and asked if Norwegian architects Snøhetta would design the space and identity. Within 20 minutes of their email invitation, Snøhetta wrote back to invite the Barr team to Oslo, to get to know them and their ambitions. 'We wanted a full collaborative approach,' says Peter Girgis, the lead interior architect on the project. As such, Schmidt and Jensen have been involved in the every step of the design process. The overall concept is based on the working philosophy of the restaurant, 'gestalt', which refers to a whole that is greater than the sum of its parts. Snøhetta zoomed into the molecular structure of beer and found organic, bubble-like shapes.

They took a 3D diagram of the space, and filled it with enlarged versions of these bubbles. The negative space was then translated into large, gently curved wooden elements, which are now installed on the walls and in the gaps between the ceiling beams, cleverly circumventing the restrictions of designing for a listed building. Made of oak, these have been carved and assembled by local carpenters Malte Gormsen, who worked on the original Noma as well as 108, the other Noma group restaurant on Strandgade. Meanwhile the old Noma floors, which are wide planks of Dinesen oak, have been sanded and refinished. The result is cosy but light, rather resembling a wooden cave.
The 65-seat main dining room has tables of varying heights, each with a distinct perspective, 'so if you're a regular, it will never be the same experience', explains Schmidt. In between two original wooden columns, Snøhetta has inserted a custom made high table, in a nod to Viking banqueting practices. Elsewhere, diners will gather at Jonas Lyndby Jensen's 'Riverstone' tables, made from oiled oak with an ovoid top – a design that happens to be inspired by a dish served at Noma. Seating is a mix of Finn Juhl's '108' chairs with bespoke upholstery, and stools by Rakel Karlsdóttir.

Schmidt worked with ceramicist Kasper Würtz to design a collection of plates in three neutral tones. 'I wanted them to be soft to the touch. This meant there could be no glazing, and therefore demanded the highest level of craftsmanship. The shapes are very natural,' he explains. Accompanying these are water glasses by his wife Rikke Malling, as well as beer glasses that were originally designed by Arne Jacobsen for the SAS Royal Hotel. Malling also created a cutlery tray so diners could reset their own table for each course, while Snøhetta is currently working on a bespoke cutlery set.
Barr's ethos is also reflected in the menu design, consisting of papers coloured by category, attached by a brass rivet to a sheet of oak, embossed with a microscopic image of Danish ale. In collaboration with Camelot Typefaces, Snøhetta have created a new typeface, Barr Gräbenbach.

The adjoining bar has a more casual layout, and offers hearty snacks such as grilled duck hearts and solæg (Danish pickled egg). The beers on tap include house brews, as well as offerings from up-and-coming breweries. In addition to the brewer and a sommelier, Barr also has a mixologist specialising in beer and aquavit cocktails. 'We have a lot of geeks, capable people who want to tell the story of Barr, to show what the difference can be when you put your mind to your craft, and work with the best products you can get,' says Schmidt. 'We have all been brought together by common respect for each other's craft. René and Peter [Kreiner, managing director of Noma Group] once said, "We want to be partners only with people we can see ourselves getting old with". This is why we're working together.'
As originally featured in the July 2017 issue of Wallpaper* (W*220)
INFORMATION
For more information, visit the Barr website (opens in new tab)
ADDRESS
Barr, Strandgade 93, Copenhagen
VIEW GOOGLE MAPS (opens in new tab)
TF Chan is a former editor of Wallpaper* (2020-23), where he was responsible for the monthly print magazine, planning, commissioning, editing and writing long-lead content across all pillars. He also played a leading role in multi-channel editorial franchises, such as Wallpaper's annual Design Awards, Guest Editor takeovers and Next Generation series. He aims to create world-class, visually-driven content while championing diversity, international representation and social impact. TF joined Wallpaper* as an intern in January 2013, and served as its commissioning editor from 2017-20, winning a 30 under 30 New Talent Award from the Professional Publishers' Association. Born and raised in Hong Kong, he holds an undergraduate degree in history from Princeton University.