Cedar House Rules: Airbnb and Go Hasegawa's rural revival project opens for rental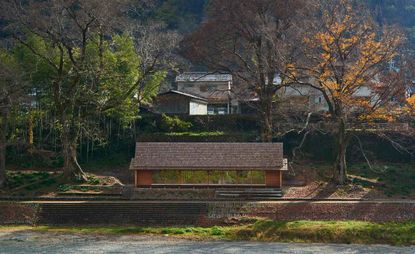 (Image credit: Airbnb)
Following its launch at last year's House Vision exhibition in Tokyo, the Yoshino Cedar House designed by Airbnb co-founder Joe Gebbia together with Go Hasegawa, has returned to its birthplace and is now officially open for rental. Today it sits by the river bank in Yoshino, a small town in the Nara prefecture, home to the densest Cedar forests in the world and, come April, famed for some of the most abundant cherry blossom in Japan.
This is a house with a greater mission than just providing a bed for the night. It offers guests the chance to experience everyday rural life in Japan, hosted by volunteers from the local community under the guidance of local wood factory owner Ishibashi-san.
The house has been designed to bring community and guests together with intuitive ease and minimum fuss. Long and narrow it comprises guest accommodation on the first floor in two rooms – one overlooking the sunrise, the other the sunset - and an open community space on the ground floor with a kitchen area, a large sunken dining table and separate shower, washroom and toilet. It is simple, charming and easy. Upstairs feels private, while guests and community comfortably inhabit the more communal spaces downstairs together. It feels entirely natural when locals pop in to greet you, cook meals and raise a wooden cup of sake with a welcome 'Kampai!'
For guests it is an opportunity to integrate with local life. With Tokyo Bikes as your mode of transport there is much to discover behind the closed doors of Yoshino from sushi classes to tours around the sake distillery and soy sauce factory. Core to Yoshino's past and present is the industry derived from the local Cedar forests and, from forest to fork (or chopstick factory), you can see every step of how the wood is prepared and used. The resourceful town gently hums with production, clouded in the aromatic scent of cedar.
There is a social agenda with the Yoshino Cedar House beyond opening up the experience of rural life that can be so difficult to access in Japan. Yoshino – as with small towns the world over – suffers from the dual effect of losing its young to cities combined with an ever-ageing population. Of the 60 people in Ishibashi-san's school class, only three remain in the village (one manages Cedar veneer production, the other the sake distillery). Profits from the house are re-invested back into the community, with the hope that a combined injection of tourism and money will bring life and opportunities to the town, providing incentives for its youth to stay.
The house alone will not turn around Yoshino's fortunes but it is a flagship initiative intended to raise awareness of a plight that needs ideas, locally, regionally and internationally. 'There are 600 empty homes in Yoshino,' Gebbia says. 'If we can show that this model works, we hope that people here and elsewhere will be inspired to think of ways to activate idle resources that cumulatively can make a difference.'
INFORMATION
ADDRESS
Yoshino-Cho Iigai 624
Yoshino-Gun
Nara
Japan
VIEW GOOGLE MAPS (opens in new tab)