Fort of call: the Rajasthan hotels worth journeying to
Rajasthan is the jewel in India's crown, a parched expansive land, home to vibrantly colourful festivals, thrilling wildlife experiences, fairytale palaces and epic forts – many of which have been transformed into modern-day luxury hotels. We take you on a tour of the best Rajasthan hotels to lay your head.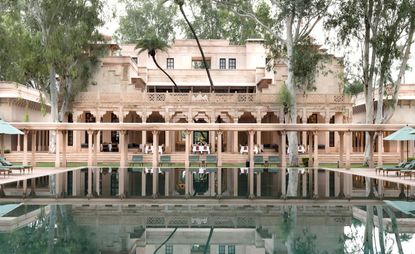 (Image credit: press)
Amanbagh
In a parched corner of the Rajasthani desert, among the rolling Aravalli Hills, Amanbagh sits within the grounds of the former campsite for royal tiger hunts. Now re-shaped by architect Ed Tuttle, the modern-day Mughal palace has been carved out of the palest of sandstone and local pink marble, with scalloped arches and cupolas nodding to India's golden age. With daily pool-side yoga sessions; a spa with Ayurvedic treatments; and pool pavilions with indulgent marble bathrooms, we don't blame you for not wanting to leave. But on the doorstep of majestic forts and ruins and the jungle of Sariska National Park, there's no excuse not to step out and experience the best of what the region has to offer.
District Alwar, Ajabgarh
Tel: 91.1465 223 333
www.aman.com (opens in new tab)
Umaid Bhawan Palace
While there is no shortage of palace-style hotels in India, Umaid Bhawan, as it happens, is the real deal, for a portion of it is still home to the Jodhpur royal family. The rest has been restored by Taj Hotels Resorts & Palaces into a 65-room showstopper featuring a grand central 56-metre dome and original Art Deco details and antiques within the impressive sandstone pile designed by British Edwardian architect Henry Launchester. Perched on a hill, high above the desert city of Jodhpur, within 26-acres of pristinely manicured private gardens, with both an outdoor and indoor pool, a spa and handful of dining options, its best to end your stay in the Blue City here, because once ensconced, you'll never want to leave.
Circuit House Rd, Cantt Area, Jodhpur;
Tel: 91.291 251 0101;
RAAS Jodhpur
You can't get better views of Jodhpur's imposing Mehrangarh Fort than from RAAS Haveli. Located within the old city, the hotel is a hip conversion of an 18th-century haveli that seamlessly stitches together four original buildings and three new additions - also in the region's local red sandstone - that surround a tranquil courtyard that belies the chaos of the city outside. Complementing the original architectural carvings, such as the scalloped arches, are subtle modern motifs and materials such as terrazzo flooring, contemporary pendant lighting and geometric breeze-block corridor walls that symbolise ornamental latticed jaalis. And while each room has a view of the fort, the best spot to enjoy it is from Darikhana, the first-floor al fresco restaurant that serves up regional Rajasthani specialties.;

Tunwar ji ka Jhalra, Makrana Mohalla;
Tel: 91.291 263 6455
Aman-i-Khas
Set within a sun-dappled landscape of dhok trees and brushwood, on the edge of Rajasthan's Ranthambore National Park, Aman-i-Kas is an intimate, secluded haven of just 10 canopied Mughal-style tents. Inside, The cool white interiors are the work of Jean-Michel Gathy who created a modern take on colonial decor featuring sleek safari chairs and writing desks with lots of tactile leather. Taking the lavish history of Maharaja's hunting parties to new heights with deep sandstone soaking tubs; a tented spa with Ayurvedic oil massages; and a private butler to boot, the property is the ideal base for tiger-spotting jaunts to the park.
Sherpur, Khiljipur, Near Ranthambore National Park;
Tel: 91.74622 52052;
www.aman.com (opens in new tab)
SUJÁN Rajmahal Palace
An enclosed oasis in the heart of Rajasthan's bustling capital, the 250-year old Rajmahal Palace, was home to the Jaipur royal family that in more recent years, hosted members of the British royal family, Lord and Lady Mountbatten, Jackie Kennedy and the Shah of Iran. Now, meticulously restored by designer Adil Ahmad, the property's original details, such as the tall bay windows, grand marble staircase and elaborate chandeliers, are enhanced by bold wallpapers that defines the scene in each room for the furnishings. Designed by Ahmad himself, the floral patterns and geometric shapes are inspired by the stone carvings that embellish the forts, palaces and havelis in the region. Don't miss out on breakfast in 51 Shades of Pink, a cheerful and vivacious room inspired by 'The Pink City'.
Sardar Patel Marg, C Scheme, Jaipur;
Tel: 91.11 4617 2700;
Alila Fort Bishangarh
On a granite hillock in a region speckled with havelis, villages and temples, Alila Fort Bishangarh is far from the madding crowd, but near enough for excursive strikes to Jaipur's famed landmarks. Architects and interior designers Sandeep and Ritu Khandelwal have painstakingly revived, renovated and reconstructed the 230-year old defensive fort with grace, preserving original architectural details such as the intricately arched windows and ornamental latticed jaalis. The evocative views are best experienced from Nazaara, the terrace lounge, where meats are cooked in sandpits and on barbecues and served from the outdoor kitchen.
Off NH-8 at Manoharpur, Bishangarh Village;
Tel: 91.1422 276 500;
The Serai
Set over 100 acres of scrubby land within the vast Thar Desert, The Serai takes the royal caravan sites of Rajputana to a new level with a series of 21 tented suites that come complete with your own personal butler. The design favours both the heat of the day and the chilly evenings with open, airy public spaces, shaded poolside canopies, cosy fireplaces and outdoor verandas- thankfully a feature of all the rooms. All of the tents are positioned on a soothing sandstone base, which sets the tone of the interiors, which are dressed in muted hues. Some of the tents come with plunge pools, while the Royal Suite is worthy of its name, with a private dining space and spa. The food benefits from its Relais & Châteaux connection and the property's devotion to fresh, seasonal ingredients from its own garden. Activities range from sunrise jaunts to Jaisalmer, sundowners on the rolling desert dunes, camel rides, and long, shady pool-side naps.
Bherwa, Jaisalmer;
Tel: 91.11 4617 2700;
The Westin Pushkar Resort & Spa '
A town bordering the expansive Thar Desert, Pushkar has long been a pilgrimage site for Hindus and Sikhs- not least for its 14th-century Brahma Temple and the holy waters of Pushkar Lake. Most famous though for its annual camel fair, the event's 200,000 or so visitors finally have a top-notch hotel to retreat to thanks to the arrival of The Westin Resort & Spa. Located on the outskirts of the city, the 98-room property is a calming oasis designed for outdoor living, whether it's the open-air lobby or the villas- either with private plunge pool or outdoor balconies. A brand best-known for its wellness, The Heavenly Spa, with its seven treatment rooms, is the perfect end to a day wandering around the bustling streets of Old Pushkar
Khasra No. 1242, 1243, 1196/1726, Village Surajkund, Motisar Road, Pushkar;
Tel: 91.145 277 4400;
www.starwoodhotels.com (opens in new tab)