The humble shed inspires villa escape in Kangaroo Valley, Australia — Kangaroo Valley, Australia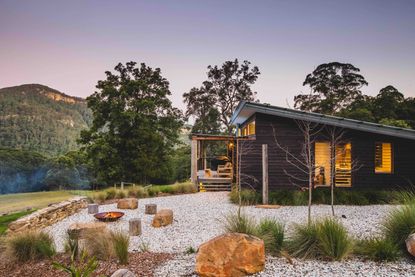 (Image credit: press)
With most of Qantas' international fleet currently hibernating in the desert and Australia intermittently separated by State border closures, the holiday escape plan Down Under is regional travel close to home. Enter the verdant New South Wales wine and farming region of the Kangaroo Valley, some two hours drive from Sydney and Canberra, and the newly developed luxury villa property Barranca.

Situated across 400 hectares of pristine bushland, green pastoral paddocks and lush rainforest, each of Barranca's four eco-luxe villas, designed by Sydney's Grove Architects, take in sweeping views of the majestic Barrengarry sandstone escarpment, which cradles the family-owned property.

For principal architect and part-time local neighbour John Grove the brief was simple: a 'rural aesthetic loaded with urban comforts' to frame the area's uniquely divergent landscape. 'Our practice has never designed a 'shed' before,' he says, 'yet the more we searched for an architecture for this site, the more obvious it became that 'a shed' was all we really needed to do.'

Those sophisticated two and four-bed 'sheds' harmoniously utilise native timbers and up-cycled heritage sandstone to intuitive modern effect, while floor-to-ceiling windows capture nature from every aspect – cockatoos and kangaroos included. Just as outdoor fire pits and rain showers make this a bucolic stay for all seasons.

Barranca is splendid isolation at its purist, offering guests a rural recharge at their own pace. Take in the morning feed up with the farm's four-legged residents, including Australia's biggest horse, or opt for an in-room massage to rival any city spa. Bush walks are a-plenty, and a swim in the property's river gum lined, freshwater creek, complete with natural rock pools should not be missed, nor should Barranca's equine programme. This relaxing retreat is just the right amount of remote - cue blackout blinds as standard and the Yarrawa Estate vineyard nearby.
ADDRESS
408 Bunkers Hill Road
Kangaroo Valley
NSW 2577
Australia
VIEW GOOGLE MAPS (opens in new tab)