Finnair raises the bar for business class travel with PriestmanGoode
Finnair Business Class' AirLounge seat by PriestmanGoode puts a different angle on air travel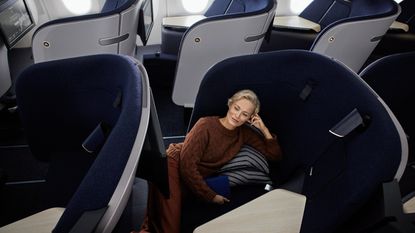 (Image credit: Finnair)
When Finnair announced the launch of the AirLounge – as part of Tangerine's redesigned business class cabin for A330 and A350 planes – industry insiders and frequent travellers alike were abuzz with talk of this new product. For the seat doesn't recline.
The brainchild of London-based industrial design studio PriestmanGoode, the innovative seat – which was developed by Collins Aerospace – does away with complicated mechanisms, instead featuring a cosy, fixed, contoured shell with a spacious ottoman and, between them, an infill pad that can be lifted to create one flat surface for sleeping. It's a surprisingly simple solution that plays double duty by reducing maintenance, as well as weight – effectively minimising fuel burn.
Finnair Business Class AirLounge seating
The result is decidedly residential, with Nigel Goode, founding director and chairman of PriestmanGoode, remarking that the idea was to create a seat that reflected the look, feel and comfort of living room furniture found in your own home. After all, as he points out, most living room furniture doesn't have recline or adjustment mechanisms.
So whether you're sitting cross-legged on the wide seat, lying back to watch a movie, or sitting upright to do some work, the seat – which has been designed to look and feel like a piece of Nordic furniture – has a unique freedom of movement. It's almost like being on your home sofa, with the cocoon-like shell – the seat's ergonomic backrest – serving as an effective noise barrier and providing privacy.
It's a simple solution, yet one that proved complicated behind the scenes. According to Kent Kroener, director of seating sales for Collins Aerospace, the big focus was getting the contours of the shell to fit a variety of shapes and sizes: 'We used university ergonomics research with data points from hundreds of people of varying sizes to come up with the best shape to most effectively optimise the comfort of the greatest number of people.'
Goode continues: 'Much of our time was spent creating physical mock-ups, rather than drawings. We needed to get down and experience the seat environment ourselves to get an idea of our success and what should be tweaked.'
The overall effect is one of cloistered exclusivity, an experience that the airline reinforces with its signature comforting navy blue colour scheme, in-seat mood lighting, by Hamburg-based Jetlite – formulated to combat the effects of jetlag – generous storage, and impressive connectivity including a handy wireless phone-charging station on the side console.
In keeping with Finland's heritage, the devil is in the design details, the sleek, curvilinear lines of the seat embellished with distinctively patterned cushions by Finnish fashion house Marimekko, which is also behind the duvet and the amenities bag. The cabin as a whole was designed by Tangerine, which has also worked on the airline's lounges.
Drinks are served in Finnair's frosted Iittala 'Ultima Thule' glassware, while food is served on pretty Iittala chinaware – part of the new 'Kuulas collection' – designed by Harri Koskinen.
The food experience has been elevated to include a six-course meal in a modern bistro style, with dishes such as salmon sashimi served with apricot miso and pickled shimeji mushrooms, or braised venison with porcini risotto, root vegetable purée and a port wine sauce.
'Both the seat and the whole new business class experience is centred around customer comfort, space, and choice,' notes Ole Orvér, Finnair chief commercial officer. 'It is the culmination of our design ethos which will appear throughout our long-haul aircraft to redefine modern premium travel.'
PriestmanGoode, PriestmanGoode.com (opens in new tab)
Tangerine, Tangerine.net (opens in new tab)
Finnair Business Class, Finnair.com (opens in new tab)