Bentley's Mulliner division enters a purple patch with the Batur
Just 18 examples of the new Bentley Batur will be built for customers, designed as the ultimate platform for creative specifications and a showcase for in-car craft and design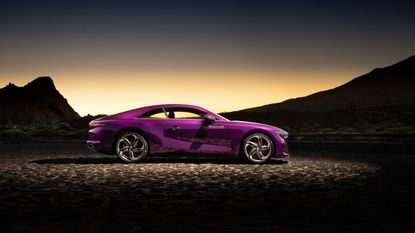 (Image credit: Bentley Motors)
Wallpaper* Newsletter
Receive our daily digest of inspiration, escapism and design stories from around the world direct to your inbox
Thank you for signing up to Wallpaper. You will receive a verification email shortly.
There was a problem. Please refresh the page and try again.
The magnificent new Bentley Batur, claims the brand, is the first-ever limited-edition hypercar that can be realistically used every day. Based on the eminently practical Continental GT, the Batur is for those who don't want to be a sweaty contortionist in an Aston Martin Valkyrie or Mercedes AMG1, or travel everywhere with a support vehicle full of butlers, like the Rolls-Royce Boat Tail. As a company spokesman explained, Bentley's ethos is to create cars that make you feel better at the end of a long journey, rather than worse.
At over £1.6m a pop, we hope new Batur owners will also retain their sense of financial security at journey's end, for aside some from some headline engine fettling and brand-new bodywork, the Batur is, whisper it, not a massive departure from the current generation GT. Both have the same fluid proportions and grand physical presence, qualities that have defined every Bentley ever since the company started making cars back in 1919.
Ultimately, the Batur is Mulliner's show, a canvas upon which the in-house coachbuilding division can go to town and deploy its full arsenal of skills, from bespoke to leatherwork to 3D-printed gold. Mulliner's affiliation with the company dates back to the 1920s, when it would craft bespoke bodywork for what were essentially race-bred engines strapped to tried and tested chassis.
The independent company was one of many offering a similar service to the high-end automakers of the inter-war era, only to see the craft slowly die out with new construction methods and technologies from the late 1950s onwards. Mulliner was acquired by Bentley in 1959, and is now a fully in-house operation, located in an old-school workshop on Bentley's Crewe campus. It's where Bentley builds its continuation cars, like the magnificent recreations of the 1929 Blower and the Le Mans-winning Bentley Speed Six, as well as executing the most indulgent and complex customer requests.
The Batur, like its sister car the Bacalar convertible, is effectively one such massive customer request. It's also a bold step for Bentley, which has watched many of its rivals in the luxury sphere move into upscale limited editions as a way of catering to the desires and deep pockets of their most ardent fans. Bentley wasn't sure if its brand credibility would reach so deep into UHNWI territory, but no-one baulked at the Batur's sticker price; clearly there's more mileage to be had out of the company's little black book.
Our Bentley Batur test drive
First things first: the aesthetic. While the Batur is unashamedly about the mighty W12 engine at its heart, there are strong hints here at the future shape of electric Bentleys to come, as revealed to us by former Head of Bentley Design Andreas Mindt, who described it as 'purified Bentley design'.
The core visual components of this new era represented in the Batur include powerful rear haunches (allegedly inspired by a resting lion), the massive, upright Bentley grille, and the long, long bonnet. The latter elements matter not a jot to a clean-sheet EV design, but Bentley will need to bring decades of design heritage with it during the transition, so expect proportions to remain inspired by classic GTs for the time being, even though radical interior ideas have been mooted in the recent past.
A classic GT is what this car is, as well as being a titanically sybaritic statement. Comparing it with the Continental GT is akin to the difference between a first class seat and a private jet; both are exceptional experiences, only the latter is in a league of its own.
Our very privileged time behind the wheel of one of only two completed cars to date took place on the volcanic rock-strewn roads of Tenerife, in the midst of a rare tropical storm, so we can't attest to the car's dynamic abilities. Suffice to say, the treacherous conditions had no bearing on the cabin ambiance, with its rich material palette, monumental sound system (a £50,000 option developed in collaboration with French audio specialist Focal), or even the distant noise of that mighty engine.
Paul Williams, Bentley's head of powertrain, explains how the mighty W12 engine has been retuned for more overall power, giving the car a zero to 60 sprint of around 3.3 seconds and a top speed of 209mph, both marginal gains over the original, but significant enough to those that care. Progress is effortless, refinement first rate, and comfort and accoutrements nothing short of excellent.
One of these first two completed cars was Bentley's final validation machine; the other the original engineering prototype. You wouldn't know it to look at them, given the exacting finishes and lustrous paintwork. The latter car has already travelled over 25,000 miles, a figure that could conceivably be more than all the other Bentley Baturs collectively achieve over the next few decades.
But should such extravagant machines be put to work as regular transport, their lucky owners have surely made a wise choice; no one straps into a low-slung, Formula 1-inspired slingshot for a brief spin on public roads, unless they're a masochistic extrovert. In contrast, the Batur doesn't shout (depending on colour choice) and could even be considered as the ultimate expression of stealth wealth.
It's unlikely that all 18 Batur customers will be chosing low-key options. Mulliner prepared four sample specifications to show what could be achieved, with a good eye and a bit of training, with bodywork in a number of vivid and exotically named colours like Wasabi, Sunbeam, Daybright Blue and Black Crystal. Given that the combination of interior colour and material choices run into the billions, a bit of informed curation is probably wise.
One senses that the more striking elements, like the 18ct gold Bentley Dynamic Drive Selector, are answers to questions that were never asked, but once an option is on the books, someone somewhere will no doubt want to select it. Only the windscreen and A-pillars are shared with the original GT, with a wider track and sleeker, precisely fitted panels made of carbon fibre – hand-built allows for much tighter tolerances.
Despite this wealth of experience and willing buyers, Bentley still finds itself playing catch-up. Rolls-Royce is the first ultra-luxury brand to stick its head up above the parapet of electrification, bringing the new Spectre electric coupé to market a full 18 months ahead of Bentley's first electric effort. Behind each legendary British badge is a Teutonic titan of the contemporary motor industry (Rolls has BMW, Bentley has the VW Group).
Although each parent company is well advanced down their respective roads to full electrification, the Spectre still has a whiff of the unknown about it, being first out of the gate. In contrast, Bentley's EV will need to arrive fully formed and completely resolved. If nothing else, the Batur shows there's still an inexhaustible appetite for luxury innovation, and that Bentley is hell-bent on finding new ways to push the envelope ever further.
Bentley Batur, all 18 examples pre-sold, BentleyMotors.com
Receive our daily digest of inspiration, escapism and design stories from around the world direct to your inbox
Jonathan Bell has written for Wallpaper* magazine since 1999, covering everything from architecture and transport design to books, tech and graphic design. He is now the magazine's Transport and Technology Editor. Jonathan has written and edited 15 books, including Concept Car Design, 21st Century House, and The New Modern House. He is also the host of Wallpaper's first podcast.