The travel trailer has reached new levels of sophistication
Living Vehicle builds high design travel trailers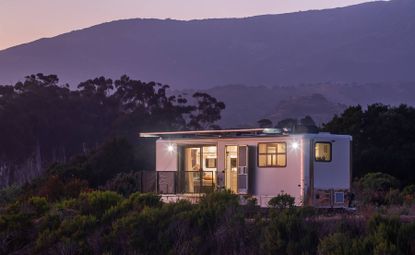 (Image credit: press)
With camper vans and travel trailers undergoing a renaissance in both Europe and the US, more and more emphasis is being placed on the design of these ultra-small spaces. California-based Living Vehicle believe they have created the ultimate travel trailer for roaming workers who care about design, convenience, and technology. Living Vehicle use an automotive-grade energy system powered by LV Energy, an array of solar panels and the very highest quality fixtures and fittings. Spa-like bathrooms, provision for a home theatre and a convertible mobile office and paired with extensive storage, a convertible external deck and outdoor shower and much more. We spoke to LV's founders, husband-wife duo Matthew and Joanna Hofmann, about their ambitions for the company they set up LV in 2017 to build 'apartments on wheels'.
W*: What are your architectural backgrounds and inspirations?
Matthew Hofmann: I studied architecture at California Polytechnic State University. I grew up in the Sierras with Yosemite practically in my backyard, so I have always had a deep appreciation for nature and creating natural structures. I always looked up to Frank Lloyd Wright, of course. Also, Kengo Kuma and Peter Zumthor for their honest use of materials. I believe in using natural materials and working with their inherent properties to arrive at the most authentic solution. Kuma and Zumthor both do this very well.

Joanna Hofmann: We were both really inspired by Zumthor's thermal baths in Vals, Switzerland. While Living Vehicle is not bound to any one site, we see it as something that can honour nature and blend seamlessly together instead of being an eyesore that puts a great strain on the environment. We believe nature is our greatest resource and teacher.
W*: Have there been any tech breakthroughs that have enabled trailers to become more home-like?
Matthew Hofmann: We have to balance this with our relentless pursuit of becoming completely disconnected from the grid. It's easy to make a small space quite home-like when connected to electricity, sewer, water, and gas – just look at the tiny house industry. But these tiny homes and prefabs are not designed to be moved regularly and certainly not designed to be powered from natural resources wherever you are. The energy system in LV for example can power all electronics perpetually. This is no small feat. We can even power the air conditioning in 100+ degree weather. That's a remarkable amount of energy storage. To capture more of the sun's rays and convert to energy, we have innovated a proprietary solar awning that extends the surface area of the roof out over the edge of the trailer to install twice as many solar panels. It's amazing how much power we were able to capture, store, and then use as owners see fit when traveling in the LV. Inside, we make very few compromises compared to a typical regular residence.

Joanna Hofmann: LV offers features such as Apple TV integration, WiFi connectivity, a home theatre package, hi-fi audio with integrated Sonos speakers, and remote security powered by Ring.
W*: What elements of conventional trailer design do you think you've reassessed and done differently?
Matthew Hofmann: When you are living full-time in a small space so many things need to be evaluated. Joanna and I experienced over a decade of small space living in boats, trailers, buses, and vans – they were all inadequate. Quality is something we put foremost above all else. We are challenging the status quo to make a travel trailer built on a commercial platform with automotive great quality. When it really comes down to it, Living Vehicle is designed to last for generations.

Joanna Hofmann: We also wanted to design something that you actually enjoy spending time in, whether it be the kitchen, bedroom, or shower. When someone steps inside a Living Vehicle, we often hear, "This is nicer than my apartment." To quote Frank Lloyd Wright, "Form follows function - that has been misunderstood. Form and function should be one, joined in a spiritual union." At our core, we are designers and architects. We design spaces for people to call home.
W*: Do you envision having a mostly recreational customer base or will some people genuinely live full time in your vehicles?
Joanna Hofmann: Over half of our customers live in their units full time. We have a big customer base in California that use our units as temporary housing while rebuilding their homes that were lost in the wildfires we experience year after year. With the rise of remote working, we're also seeing people making big life changes and choosing where they want to call home now that they are not required to live in the city and commute to the office. Living Vehicle's ability to sustain off-grid living for longer than any other trailer on the market gives people ultimate flexibility and freedom. Our customers are able to look beyond the standard campground experience and venture out to more remote and beautiful areas. We're also seeing a rise in people buying raw land and living in their units while embarking on longer term land development and residential builds. It's the perfect solution that adapts to the ever- changing needs and lifestyles we all experience over the years.
W*: What details and components are you most proud of?
Matthew Hofmann: Our long-term goal and business mission is to create a mobile living space that is completely independent and is able to operate without connection to utilities. We have made tremendous strides in this arena and for 2022 are now completely energy independent. The extreme level of sophistication in detail in the energy system from solar panels, energy storage packs, and remote monitoring enable this breakthrough. Without the energy system we would not be able to run the luxuries that support modern day full-time living. Everything you would expect in a high-end New York apartment you can find inside Living Vehicle. Our relentless pursuit of innovation, supported by a foundation of quality, makes all this possible.

Joanna Hofmann: I told Matthew when we were starting out on our mobile lifestyle that if we were going to live full-time in a trailer it would need to have one heck of a shower (long, hot showers are my guilty pleasure). We've designed a stunning spa-style shower experience that instantly transports you to pure bliss and makes you feel like you're in a luxury resort, with skylights and heated towel rails. Bonus points if you've got an ocean view outside your window.
W*: What level of customization do you allow?
Joanna Hofmann: We provide a blank canvas with a neutral colour palette for customers to personalize their units based on their individual style. You can customize your LV with over 20 option packages depending on how you plan on using your unit. Performance and capability related options include an off-road package, energy integration so you can charge your LV with your tow vehicle and an integrated backup generator for maximum off-grid capability and energy redundancy. There are also luxury options like the chef's kitchen, spa bathroom and luxury housekeeping complete with a central vacuum, dishwasher and washer/dryer. Our most popular feature is the Euroloft, a motorized bed that is tucked away in the ceiling and comes down with the push of a button to increase sleeping capacity. Everyone's favourite part of the LV, the residential sliding doors with fold down patio is standard on all of our models.
INFORMATION
2022 model Living Vehicle, from $249,995
Living Vehicle
Receive our daily digest of inspiration, escapism and design stories from around the world direct to your inbox
Jonathan Bell has written for Wallpaper* magazine since 1999, covering everything from architecture and transport design to books, tech and graphic design. He is now the magazine's Transport and Technology Editor. Jonathan has written and edited 15 books, including Concept Car Design, 21st Century House, and The New Modern House. He is also the host of Wallpaper's first podcast.