IAA Mobility 2021: new future forms for two and four wheels
Our round-up of the best future cars, scooters and bikes seen at IAA Mobility 2021 – from an electric motorbike with built-in skateboard to a purist electric racing car – promises new transports of delight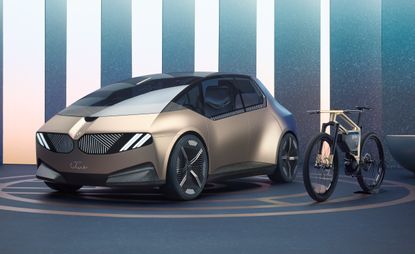 (Image credit: press)
The Internationale Automobil-Ausstellung has always been about its home country. First held in Berlin in 1897, in modern times the IAA became almost exclusively associated with Frankfurt. Postponed by the pandemic, as well as the ongoing downturn in auto show attendance in the West, the 2021 event has re-branded itself IAA Mobility and switched venues to a scattering of locations around Munich. No longer a collection of vast exhibition halls assembled as a temple to the cult of the car, IAA Mobility has set itself up to talk about all aspects of contemporary transportation. For now, the car is still king and the stuttering emergence of electrification means that there's no longer any dominant aesthetic or trending design language.
In many respects, this was Mercedes' show, even though it was held in BMW's hometown. The three-pointed star showed three new electric models, the EQB, EQE and Mercedes-AMG EQS, alongside three electric concepts, the Mercedes-Maybach EQS, Concept EQG and smart Concept #1, as well as a few conventionally powered new cars.
VW, Audi, and BMW weren't far behind with the innovation. However, there were still plenty of no-shows, companies not only battered by the economic downturn but also still mindful of steady decrease in interest in big auto events. The IAA's organisers weren't able to lure GM, Toyota and Stellantis – three of the world's biggest mobility companies – but it did ensure that smaller manufacturers and bike builders were welcome. BMW, in particular, showed that it could cover all parts of the mobility spectrum, with bikes, scooters and a concept car on display.
Here's our selection of the best future mobility on offer.
Polestar CAKE Makka and Re:Move
Polestar showed a working prototype of the Re:Move concept, developed out of our very own Re-Made series in collaboration with Konstantin Grcic and Hydro (opens in new tab). The slim, 750mm electric transporter is designed for urban centres, capable of taking up to 180kg of cargo through bike lanes. Polestar describes it as a 'new vehicle category', and it typifies the continuous stream of smart thinking coming out the brand. Another collaboration on display was a new version of CAKE's Makka bike. The Makka – Polestar edition by CAKE is designed to be mounted on a Polestar 2 car, with an integrated charger that tops up the bike battery as you travel to your destination, before it becomes the ultimate last mile commuter or adventure bike.
BMW i Vision AMBY and Motorrad Vision AMBY
BMW's two AMBY concepts encapsulates the company's future intentions. AMBY – 'adaptive mobility' – takes the form of two different types of two wheelers. The first, the i Vision AMBy, is an electrified bicycle, or 'high-speed pedelec for urbanists', as the Bavarian company puts it. The second, the Motorrad Vision AMBY, is a more robust, motorbike-like machine that does away with pedals altogether. Both serve to blur the lines between bike, e-bike and scooter, although the company notes that taking either on a main road at up 60km/h will require insurance and a licence.
BMW-Motorrad.com (opens in new tab)
BMW Motorrad Concept CE 02
The final two-wheeler from BMW was the Motorrad Concept CE 02, the latest in a series of increasingly radical concepts from the car maker's motorbike division. The CE 02 is a vision of a future electric scooter, boasting an integrated skateboard that doubles up as footrests, along with zippy acceleration and a geometrically pure and uncomplicated design.
BMW.com (opens in new tab), BMW-Motorrad.com (opens in new tab)
BMW i Vision Circular
The IAA Mobility buzzword was 'circularity'. With electrification essentially established as the powerplant of the now and immediate future, the next challenge is to reduce the massive carbon footprint involved in building a car – up to a quarter of a conventional car's lifetime emissions are generated in the factory, a figure that rises for electric vehicles. BMW's answer is the i Vision Circular, a look forward to the status of four-wheeled luxury in 2040. The answer is a rather more modest exterior approach than at present, with the passenger compartment morphing into the entire superstructure of the car, adorned with subtle geometric forms and lighting.
At just 4m long, the form has been shaped to maximise interior space. A 'phygital' user interface occupies the dashboard, part artwork, part command centre, with driver information projected onto the windscreen. The concept even has sound design by Hans Zimmer. Although the shapes and design ethos is new, the main story behind the i Vision Circular is its use of materials. As the name suggests, this is a car created for a closed materials cycle, with every single element designed to be reused or recycled, from the bodywork to the battery. The company currently achieves a proportion of 30 per cent recycled and reused material in its new cars and hopes to push that to 50 per cent in the next few years. The trend towards fewer materials is something the company's designers explored with the current BMW iX (opens in new tab) and the Circular goes further, with quick-release fasteners used to help ease the car's eventual dismantling.
BMW.com (opens in new tab)
Audi grandsphere Concept
The second of Audi's three 'Sphere' concepts, the grandsphere is a super GT that eschews the values of speed and dynamics in favour of comfort and experience. Like the earlier Audi skysphere Concept (opens in new tab), this transformation includes a steering wheel that disappears out of sight. The interior is spacious, reminiscent of the saloon on a yacht or the cabin of a private jet. The concept's vast length and width allow for plenty of room, including space for a potted plant, and quiet contemporary luxury, with lots of curved, unvarnished wood and no leather to be seen. The big bodywork is undoubtedly elegant and hints strongly at the company's upcoming electrified flagships.
Audi.com (opens in new tab)
Mercedes-Maybach Concept EQS
A preview of the world's first ultra-luxury electric car, the Concept EQS is a mighty SUV stuffed full of high-technology, rich materials and acres of space. Epitomising what one might call a 'global luxury' aesthetic, the Concept EQS has expansive rear seating for two, swathed deep within a two-tone high-riding body dominated by a massive front grille: Herman Melville would have a thing or two to say about this new Cetacean class of car. The Concept EQS is also a lightly disguised preview of Mercedes' conventional next-generation electric SUV, which will appear next year without the lashings of white leather and rose gold.
Mercedes-Benz.com/maybach (opens in new tab)
Mercedes-Benz Concept EQG
An all-electric version of the iconic 'G' Class was inevitable, and the Mercedes-Benz Concept EQG shows that the development work is well advanced. It's worth considering what a long, strange journey this car has taken. Although the current 'G' is essentially an all-new platform, introduced in 2018, it continued the familiar aesthetic and basic form of the original Geländewagen, first introduced in 1979 (opens in new tab). That vehicle began life as a military machine; hard to image its form would survive over 40 years and the arrival of a new propulsion technology.
Mercedes-Benz.com (opens in new tab)
Mercedes-AMG EQS
The Mercedes-AMG EQS takes the established solidity, sleekness and style of the new EQS electric sedan and ups the dynamic ante. The car has the distinction of being the first pure electric machine to come out of the Mercedes-AMG performance division. A zero to 60 time of around 3.4 seconds is still slightly off the pace set by Tesla, but Mercedes' impeccable track record with build quality and refinement will make this a worthy competitor. Another debut was the Mercedes-Benz EQE, the crucial mid-size premium EV that should spearhead sales over the next few years.
Mercedes-AMG.com (opens in new tab)
Smart Concept #1
Not to be outdone, MB's Smart division also proposed a change of direction with its Concept #1 small SUV. For a company that's always struggled to make financial sense out of its undeniable innovation, the move to SUVs is unsurprising. The Concept #1 also hints at the end of the design language that has shaped Smarts since the brand's inception (initially as a collaboration with watchmaker Swatch). Eschewing the playful two-tone colour body style in favour of a smoother, more conventional appearance, the Concept #1 is bigger than its predecessors in every way, suggesting the company wants to return to the lucrative US market. Whether there's a future for a new version of the diminutive Fortwo model remains to be seen.
smart.com (opens in new tab)
ACM City One
Truly small cars tended to be niche players at the IAA Mobility. ACM's City One is a case in point. ACM (Adaptive City Mobility) has created an industrial micro machine, that looks for all the world like a giant Rimowa suitcase. By incorporating a set of slot-in additional batteries, the car's range can be quickly and simply extended without the need for hefty charging infrastructure. Engineered in Germany, the City One has been in development for eight years and is now ready for production, with car-sharing schemes and business fleets the likely buyers.
ACM.city (opens in new tab)
City Transformer
Another ultra-compact urban machine, the City Transformer's party trick is a set of extendable axles that give the slim two-seater more conventional car-like handling on the open road. In slim City Mode, the 1m-wide vehicle can be parked in the tightest of spots (up to four can fit in one conventional parking space), with a forward-hinged scissor door for ease of access. The manufacturer suggests a 100-plus mile range, and a low-maintenance design.
CityTransformer.com (opens in new tab)
Volkswagen ID. LIFE
VW played it relatively low key at the IAA Mobility. The company's main reveal was the ID. LIFE, another step along the road to the idea of a universal electric car for all. The key metric here is cost, for VW wants to expand the idea of 'entry-level electric mobility' with a car that's well designed, simple to make, easy to connect and, above all, less expensive than any full-size electric car has been to date. Imagine this with an ID.1 or ID.2 badge, and a street date of c.2025.
VW.com (opens in new tab)
Renault Mégane E-TECH Electric
The new Renault Mégane E-TECH Electric applies the French manufacturer's substantial EV know-how to its best-selling and best-known model. Signalling the convergence of separate EV and ICE model lines, the E-TECH will be a worthy competitor to more compact EVs like VW's ID.3 and the Tesla Model 3. If the suggested range of nearly 300 miles is achieved, it'll be near the top of its class.
Renault.co.uk (opens in new tab)
Porsche Mission R Concept
Add back everything that's been stripped away in this purist electric racing car, and you'll get a good idea of what the first ever pure electric Porsche sports car will look like. To date, electric Porsches have all had four doors (opens in new tab). Whether the company's long-awaited shift to pure electric will be seen as heretical as the launch of its first SUV back in 2002 remains to be seen. The Mission R is a purist machine, with lightness achieved through new materials like plastics reinforced with natural fibres and a new type of electric motor. The raw interior, with its carbon fibre roll cage and race-spec safety harness, point to a future where sporty Porsches take much more inspiration from the track.
Porsche.com (opens in new tab)
INFORMATION
IAA Mobility, until 12 September 2021, iaa.de
Jonathan Bell has written for Wallpaper* magazine since 1999, covering everything from architecture and transport design to books, tech and graphic design. He is now the magazine's Transport and Technology Editor. Jonathan has written and edited 15 books, including Concept Car Design, 21st Century House, and The New Modern House. He is also the host of Wallpaper's first podcast.