Henrik Fisker on the Fisker Ocean, 'the world's most sustainable vehicle'
Henrik Fisker on launching the Fisker Ocean electric SUV, its swivel screen, solar panel panoramic roof, and his ambitions for the first CO2-neutral car by 2027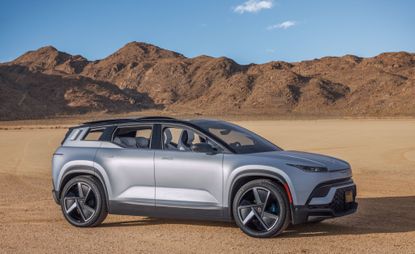 (Image credit: press)
Launching an electric SUV at a tech show is an unusual choice, but then again the Fisker Ocean – and Fisker Inc CEO and head of design Henrik Fisker – might be chasing a different kind of EV customer with their innovative swivelling screen, the centrepiece of what he dubs 'the world's most sustainable vehicle'.
In defence of the latter claim, the Ocean uses a wealth of recycled materials, a solar-panelled roof and will be assembled in a carbon-neutral Austrian factory owned by Magna-Steyr – already trusted to make the I-Pace for Jaguar and the G-Wagen for Mercedes-Benz.
With the springtime Geneva Motor Show cancelled for the second year running, the recent Mobile World Congress in Barcelona made sense for the Ocean's European debut (after its global unveil in late 2021 at AutoMobility LA (opens in new tab)).
With the vehicle set to go on sale in November 2022, prices have been announced – from £34,990 – and a long, 390-mile range and short, 3.6-second 0-62mph time promised.
And if the name sounds familiar, that's because this is not Henrik Fisker's first, or even second attempt at launching a brand. There was Fisker Coachbuild in 2005, unsuccessfully targeting the small-run specialty car business, then in 2007, the BMW and Aston Martin design veteran did some initial work on the Tesla Model S before setting up Fisker Automotive as a rival early electric pioneer. But with the 2011 range-extender petrol-electric Karma saloon as the firm's only production model – and despite financial backing from US government and film star Leonardo DiCaprio – Fisker resigned in 2013, the company went bankrupt and was later reborn as the Chinese-backed Karma Automotive. Fisker Inc started in 2016 and the Ocean will be its first production model.
Wallpaper* caught up with the Danish-American Henrik Fisker to discover what's special about this car, this time, and why the industry as a whole is about to be shaken up as never before.
Henrik Fisker on the Fisker Ocean electric SUV
Wallpaper*: You have a great pedigree in design but have had a few false dawns in business. What's different this time?
Henrik Fisker: First, when I started working on plug-in and electric vehicles back in 2006-7 it was the Wild West. There were only three battery companies – Panasonic, which made a deal with Tesla, LG Chem which had an exclusive with GM and A123, which was a Boston start-up we had no choice but to use, but went bust. Fast-forward to today, we now have a much more mature supply chain.
Second, the financial backers are different. When Fisker and Tesla started, it was all Silicon Valley types that drip-feed money. Today, Wall Street is 100 per cent convinced the majority of the market in the future could potentially be taken up by new EV start-ups. Because they've decided that, they're financing the companies they believe in, which means we're fully financed. And that's the difference, because if you're not fully financed, then you keep starting and stopping and then some of your technology becomes too old and suppliers fall away.
W*: Talking of tech, how does your new swivel screen work?
HF: It was an internal idea we had. Then I rang up the chairman of Foxconn and he rang up one of his companies, which started working on it. It works just like you use your phone, moving from portrait to landscape, hinging in the middle. Landscape mode is for when you're static and maybe charging, and when you start driving again it goes to portrait. This is a 17.1in screen, so it's really like having your own movie theatre or gaming station inside the vehicle. We filed a design patent for it, but Foxconn builds it.
W*: Will your screen still offer Apple CarPlay, though?
HF: The user experience is not ready to show yet, but we're developing everything ourselves, as we don't want to rely on Apple CarPlay. We want to own the customer experience. My task to the engineering and user experience groups, who have come from Microsoft, Google and Apple, is 'I need something better [than CarPlay]'. You're not going to want to use that once you have our system. The screen was developed in 18 months with [Apple supplier] Foxconn and has the highest resolution in the car world.
W*: Launching at a tech show, you're making much of keeping ahead, especially in user experience. How are you able to do so?
HF: We looked at where we could take out time, specifically by shortening decision processes. I'm the CEO as well as the head of design, so I can make decisions in one hour which would normally take three months.
W*: How useful will the solar panel panoramic roof be?
HF: It will be standard on the Extreme model, it's 100 per cent free and clean and we get about 2,000 miles of range a year from it in sunny California. If you live in England, it won't be that much, but it will still be useful.

W*: What are your production range plans beyond the Ocean SUV?
HF: The Ocean sits somewhere between a BMW X3 and an X5 in size. Then there will be a lower-cost vehicle called Project Pear (Personal Electric Automotive Revolution) with Foxconn. That's about reinventing the car as we know it, through some sort of mobility play, based on user scenarios of young people in megacities. We want to create an icon in the spirit of the original Beetle and Mini Cooper, that could cross levels in society and appeal to a lot of people. Then we're going to have two more cars before 2025. One will be a super-enthusiast sporty vehicle, our supercar, but it definitely will not be something that looks like a mid-engined car, and then one other vehicle, most likely sitting on the Ocean platform.
W*: Where do you see the biggest changes in the EV market?
HF: The industry started out with weird, little ugly cars, but since then there have been some great electric vehicles. The new milestones in electrification are happening in the EV start-up area. The traditional carmakers are making EVs, but they're not beating anyone.
W*: And your longer-term ambitions for Fisker overall?
HF: This is my life. We want to get Fisker into a fully-fledged car company, with several ranges of vehicle – we've planned the first four – and I would like to get to a million units a year and go further. We have another mission by 2027 to make the first CO2-neutral vehicle. That's going to be really difficult, but we've had a lot of buy-in from suppliers and everybody else. Sustainability is at the heart of what we are doing, but in my view, it only works if you have desirable vehicles. No one wants to eat a kale salad without a dressing.
Fisker Ocean, available from 2023, from £34,990
Guy Bird is a London-based writer, editor and consultant specialising in cars and car design, but also covers aviation, architecture, street art, sneakers and music. His journalistic experience spans more than 25 years in the UK and global industry. See more at www.guybird.com (opens in new tab)