Harley Davidson LiveWire: the all-electric muscle bike for the next generation
George Chapman rides the new Harley Davidson LiveWire – the brand's first all-electric motorcycle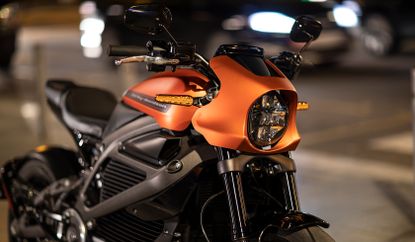 (Image credit: Harley Davidson)
The all-new Harley Davidson LiveWire is the world's first series production electric bike from a mainstream manufacturer; quite an achievement for Harley Davidson, a brand renowned for following a very traditional recipe when designing and manufacturing motorcycles. Available now, priced from £28,995 in the UK, it's positioned amongst the brand's range-topping models but faces the difficult task of attracting a younger, more tech-savvy audience to the iconic all-American brand. But is it a real Harley Davidson?

From afar the all-new machine possesses more than a passing resemblance to its large V-twin engined brethren. The styling of the squared-off headlight cowl and (fake) petrol tank are clear Harley design cues. On closer inspection however it is obvious that all is not quite as it seems. At the very core of the bike sits its sizable battery, something Harley Davidson calls a 'Renewable Energy Storage System'. In technical terms, it's a 5.5kWh high-voltage lithium ion battery pack with a built-in power generation system. Contained in a cast aluminium case with cooling fins it acts as a stressed chassis member with the frame bolted around it. The unit can be charged to 80% in under 40 minutes at a public fast charger but takes much, much longer (around 10 hours or more) if plugged into a domestic three-pin socket.
The official maximum 'city range' for the LiveWire is given as 146 miles, but on test, this proved wholly optimistic. More accurate is the 95 miles of 'combined stop-and-go and highway' range. Make no mistake, this is not a bike designed for touring and careful route planning is essential.

Located directly beneath the battery is the LiveWire's 'Revelation' water-cooled electric motor, which Harley Davidson says is good for 0-60mph in 3.0 seconds. Should the need for virtually instant overtaking manoeuvres arise, it can also shoot from 60-80mph in a hugely impressive 1.9 seconds.

In fact, riding the LiveWire is where the package really begins to ask questions of traditional petrol-powered bikes. Electric or not, this is a fun and engaging motorcycle to ride. The riding position feels macho and strangely aggressive for a factory-made Harley and reminds you of a streetfighter or muscle bike from the 1990s. Once you've selected one of seven riding modes (three of which are customisable) to electronically control the performance characteristics of the bike and the level of electronic intervention, the LiveWire's power unit gently 'throbs' when stationary. This not only lets you know the throttle is active but also serves to remind you that you are astride a bike developed to reveal a definite personality and some might say, soul. It sounds like a bizarre concept, but in practice it's strangely effective.
Once underway you can't fail to notice the smoothness of the motor, the jet turbine-style sound it makes and the distinct lack of gears, which has your left hand and foot often reaching into thin air for an absent clutch or gear lever. You also quickly warm to the abundant power and torque, all 104bhp and 86 lb ft of it. Delivered in a wonderfully controllable and linear manner, the system is super simple to operate, you simply twist and go. This means that you're soon throwing the bike into corners with all the confidence of an all-season dispatch rider. Capable of 114mph flat out, keen riders will be pleased to hear that the LiveWire is a bike more focused on how easily it goes fast, rather than simply how fast it goes.

On the handling front, there's even more to celebrate. Unlike almost all other Harley Davidsons, and despite its 250kg bulk, this bike is truly at home on twisty challenging roads. The ride provided by the big-piston Showa forks and a similarly branded rear shock do a tremendous job and deliver very little drama until very heavily pushed. Traction control and ABS are standard, as are a set of monoblock Brembo calipers gripping dual 300mm discs, which do a fine job of hauling the LiveWire down from speed.
As is befitting of many premium new motorcycles in 2020, a 4.3-inch colour TFT touchscreen offers the rider a wide range of information on a display that's bright and easy to read. Bluetooth connectivity also comes as standard, so should you wish, you can easily accept calls and hear navigation instructions via your smartphone. The Harley Davidson Connect app also provides you with handy directions, ride planning information, dealer and event locations and the reassurance of being able to remotely monitor your motorcycle's security, using tamper alerts.

From a design perspective, and in terms of pushing the boundaries of technology, the LiveWire is a massive hit on many accounts. Few other electric bikes available today are as desirable, as effective or as much fun to ride. The fact that there's a Harley Davidson badge on the tank is perhaps more surprising however, and only a brave salesman will attempt to convince an existing customer that the spirit of the brand is alive and well in this impressively high-tech and future-ready machine. So yes, the LiveWire is an excellent Harley, but certainly not as you know it.
INFORMATION
Receive our daily digest of inspiration, escapism and design stories from around the world direct to your inbox