Hear us out: plug into design-minded audio technology
These days, our audio accessories are much more than just products that play music and tune into the radio, they are design objects, recipe finders, personal assistants and much more.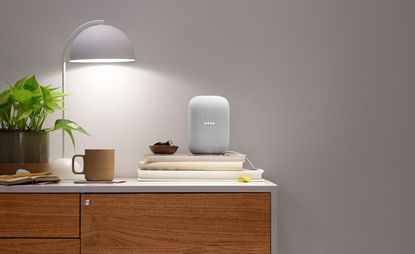 (Image credit: pantheoneaudio.com)
Speaker systems must balance visual aesthetic, connectivity and sound quality in more intricate ways. Factors of sustainability, materiality and privacy are priorities in the technology of these gadgets too, and brands have to be smarter than ever to seamlessly integrate them into our homes. From textile models and pocket-sized powerhouses to the retro reborn, here, we present the speakers pumping out audio innovation.
Pantheone I Speaker
Australian audio brand Pantheone has revealed its Pantheone I speaker, a curvaceous freestanding egg-like object that's unlike any other smart speaker on the market. The intriguingly sculptural design has been overseen by the company's Creative Director, Anne-Claire Bottos, who cites the Roman Pantheon as the inspiration for the speaker, especially the way its curved geometric form is inspired by illuminated architecture. Intended to be appreciated as a standalone object when it's not providing 360-degree stereo sound, the 65cm tall Pantheone I contains 8 speakers and has a clutch of connections, wired and wireless, including Amazon Alexa integration and a dedicated app to help your shape your sound. Founded by Oren Adani, Pantheone Audio sets itself apart from other hi-tech brands with this art-driven approach. Sonic statement don't come much louder.
Pantheone I, from £2,199, pantheoneaudio.com (opens in new tab)
Transparent
Transparent is a Swedish audio brand founded by designers Martin Willers and Per Bricksted. With a suite of simple products, it aims to create hi-fi that with a solid, lasting feel, allowing enthusiasts to assemble a timeless system that also fits perfectly into their environment. The company's latest product is a new version of its speaker system, previously available in wood, stone, steel and glass.
The Transparent Speaker is exactly that, a see-through system that lays its innards bare. It's now offered with a Matte Black finish to give even strong definition to the rectangular aluminium frame that surrounds the unique tempered glass speaker enclosure.
The Small Transparent Speaker has two 3" drivers while the larger model comes with an additional 6.5" woofer. Both have been given an uprated sound processing chip and better wireless connectivity, although you can of course use conventional cables if you so desire.
Small Transparent Speaker, £450, Transparent Speaker, £900, transpa.rent (opens in new tab)
Google Nest Audio
Google's crop of smart home products continues to gear towards a seamless future with its design-led approach. The latest smart speaker, Google Nest Audio blends into the environment with its two muted tones, charcoal and chalk. It is made minimally too with 70 per cent of its materials gained from a recycled source. Sound is not compromised though as Google boasts that this devise is 75 percent louder and has 50 percent stronger bass than the original Google Home.
The soft structure has a smooth finish that sits neatly on the surface – turn up the volume, start and stop with the invisible buttons, or click the microphone off at the rear for much-needed privacy. 'In a time when we're all stuck at home listening to more music than ever, we're especially excited to introduce Nest Audio, our latest smart speaker that is made for music lovers,' says Mark Spates, product manager at Google Nest, who describes the speaker as a 'music machine.' 'Our goal was to ensure that Nest Audio stayed faithful to what the artist intended when they were in the recording studio.'
Google Nest Audio, £89, store.google.com (opens in new tab)
Model One Digital, Tivoli Audio
The revamped Model One Digital, Tivoli's throwback DAB radio, sports a retro casing and has a comfortably familiar aesthetic. Inside, we find all the contemporary mod-cons (WiFi, Bluetooth, integrated Spotify), while matching wireless 'Art' speakers offer additional audio heft, for those with distant neighbours.

Topically, Tivoli Audio's mantra reads, 'Classic design, quality sound', and Paul DePasquale, vice president of Tivoli Audio's design department takes a measured approach to the 'acoustics before aesthetics' argument. 'Design should never be a casualty in the pursuit of high quality audio,' he explains. 'Initially, design often takes precedence over sound. Yet once we start working on a product, it's inevitable that certain design particulars are altered to address any sound issues that may arise.'

For DePasquale, the new Model One offers the best of both worlds, attracting both 'audiophiles' and 'design enthusiasts'. 'Both groups will always exist,' he says. 'Luckily for them the quality of audio is getting better in smaller form factors.'
Model One Digital, £119, store.wallpaper.com (opens in new tab)
P2, Beoplay
If it's smaller-form factors you're after, the P2 is a pocket-sized powerhouse. The little brother of tech titan B&O, Beoplay knows its millennial marketplace inside out. As design and concept manager Jakob Kristoffersen puts it, 'our products appeal to people who are characterised by a youthful and energetic approach to life'.

It's an audience that isn't quick to compromise, and Kristoffersen rebuffs the idea that a speaker's shelf-appeal must concede to its audio quality. 'We design with authentic materials and best-in-category sound. There is no prioritisation – both sound and design must deliver in unity.'

Innovatively, the P2 has absolutely button-free, and is controlled remotely by an app. To change, skip or pause a track, simply give the hand-held speaker a shake. On first impression this might seem a little gimmicky – just another digital language to learn, struggle with and swiftly forget – but the unique control design is surprisingly intuitive. It allows the largest possible surface area to be covered by the high quality pearl blasted anodised aluminium speaker-grill, and durable polymer underbelly – something which aids both 'sound quality and aesthetic feel', Kristoffersen adds.
P2, £150, Beoplay, bang-olufsen.com (opens in new tab)
Bunaco by Nendo
High-quality speaker design doesn't have to be high-tech. So says design titan Nendo through its Bunaco speaker, developed to make effective use of the abundance of beech trees that grow in Aomori prefecture in Japan. By rolling thin and narrow strips of beech wood to create coil-based shapes, a paper-like, easily mouldable material can be made. Usually used for objects that need to be both delicate and water-resistant, like bowls or vases, Nendo has applied the same technique to its wireless speaker. As a result of the shape of the internal cavity, the sound absorbing qualities of the beech wood, it has been proven to produce a uniquely clear and soft tone – as well as possessing an unparalleled visual fragility.

The Bunaco has an omni-directional speaker with a vertically standing diaphragm, aiming to maximise the acoustic quality and the sound's spatial distribution. To accentuate the beauty of Bunaco's woodwork, the speaker is supported with a transparent acrylic cylinder. The clear base makes it possible to see the unfinished edge that is left curling from the bottom, enabling users to intuitively understand the speaker's structure as well as the craftsmanship invested in its production.
Bunaco Speaker, bunaco.co.jp (opens in new tab)
Podspeakers
With a tag line like 'Shaping sound', Podspeakers bases its design ethos on the interaction between audio and visual design. 'The curved shape for which Podspeakers is known is both a visual and an audio asset,' explains the brand's Alan Gornall of these bubble-shaped '90s throwback speakers.

When they were first introduced in 1992, Podspeakers presented 'a new way of listening', says Gornall. They helped you 'hear with your eyes as well as your ears'. Now, the cult classic has been re-released and re-configured to cope with the modern listener's demands, with luxury materials and up-to-date connected technologies, like bluetooth and wireless connectivity.
Podspeakers, from €349, podspeakers.com (opens in new tab)