Six minimal devices designed to take the stress out of tech
Six pieces of simple and minimal tech – from a dumb phone to a low-tech laptop, and a radio designed for dementia patients – that promise to counter the impact of information overload and unnecessary feature creep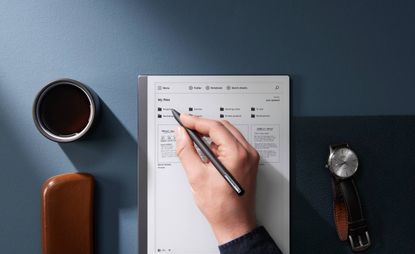 (Image credit: TBC)
Wallpaper* Newsletter
Receive our daily digest of inspiration, escapism and design stories from around the world direct to your inbox
Thank you for signing up to Wallpaper. You will receive a verification email shortly.
There was a problem. Please refresh the page and try again.
Buying tech to cure us of our tech addiction is a curious sticking plaster for a problem that cuts much deeper. Nevertheless, some companies are now creating devices that eschew bells, whistles, nudges, and pokes for a more holistic and hassle-free engagement with technology. Whether it's to spur on the creative flow, improve accessibility, or simple to better blend into the background to create a more seamless space, here are six examples of contemporary gadgets that strive not to stand out.
Six minimal tech devices to keep life simple
1. reMarkable 2 – a 'paper' tablet for writing and sketching
A couple of days into using the reMarkable 2 tablet and you'll find your handwriting has substantially improved. Dubbed a 'paper tablet', the 2 is an ultra-slim e-ink tablet that provides a consistently excellent surface to write on. There are those of us who still prefer taking written notes, and this is where the reMarkable 2 excels. Paired with the company's Marker or Marker Plus (both sold separately), the tablet gives just the right amount of resistance to imitate the feel of paper.
The Marker simulates a number of different implements, from biros to pencils, calligraphy nibs, and markers, and the Marker Plus has a built-in eraser. Well-written notes can be automatically translated into text and documents are either stored internally (up to 100,000 pages' worth) or synchronised across Dropbox or Google Drive (with a monthly subscription). The black and white screen bears a minimal interface, without the distraction of notifications or web browsing, and the Marker's sophisticated touch sensitivity make it great for sketching and drawing as well as writing.
reMarkable 2 paper tablet, from £279, reMarkable.com
2. Relish Radio – a radio designed for dementia patients
A simple idea, executed remarkably well, the Relish Radio is explicitly designed for dementia patients. Containing DAB and FM transmitters, the top panel of this sturdy device reduces the controls to the bare minimum – off, on, volume, and four presets. The channel programming is done inside the device's battery compartment, allowing you to input three favourite stations and a USB stick of audio.
The user then has instant access to the presets via the main controls, with no way of accidentally de-tuning the radio. The design is soft-edged and friendly, eschewing any overt branding and labelling. The company's aim is to ensure the familiar and reassuring sound of music and talk radio remains accessible to those who can no longer operate even the simplest conventional device.
Relish Dementia Radio, £99, relish-life.com
3. Freewrite Traveler – a low-tech laptop
Launched in 2020, the FreeWrite Traveler is still a lonely low-tech laptop in a sea of ever faster devices. Described by its creators, the Detroit-based designers Astrohaus, as a 'dedicated drafting machine', the Traveler operates in the same limited sphere as the reMarkable 2. No browsers, music players, streaming services, games, social media, or email ensure that all you can do with the Traveler is type. In fact, given the relatively small e-ink screen (reminiscent of the very earliest portable computers), you'd better not try to edit what you've written.
That's entirely the point, for the compact device has a high-quality keyboard, plenty of inbuilt memory, all the better to 'separate the drafting and editing process'. Back-ups are sent at the push of a button, and the low-energy screen gives the portable Traveler up to four weeks of standby time. The perfect companion for a productive literary break without any unnecessary side-tracks.
FreeWrite Traveler, $499, getfreewrite.com
4. XGIMI Magic Lamp – a ceiling-mounted projector and lamp
XGIMI's new Magic Lamp is a roof-mounted projector system currently only offered in China. The company has carved a niche in the home projection market, and many of its products are available elsewhere in the world – like the ultra-portable Halo+ – so the Magic Lamp might yet shine in your home. As the name suggests, the glowing disc doubles up as a room light, with a clever bespoke short-throw projection system that's kept away from any obstructions.
The integrated Harmon Kardon speaker system brings high-quality audio, and the borderless projection allows you to fill up a wall with the screen. Best of all, the Magic Lamp doesn't have to be packed away when it's not in use.
Magic Lamp, more information at xgimi.com
5. OneClock – a simple alarm clock with 'waking music'
For generations, the go-to alarm clock was Dieter Rams' BC series for Braun, a timeless design that remains in production with a few simple options. The vast majority of us, however, have ditched the traditional alarm clock in favour of using our phones, with all the potential for distraction that entails. In addition, the shrill array of available alarm tones is seemingly designed to jerk us out of unconsciousness, rather than ease us into the day. OneClock crowdfunded its riposte to these nightstand nightmares with a clock that goes back to basics.
The totally silent Swiss movement is illuminated with a touch-sensitive night light and, most importantly of all, the shrill tones of the Braun BC are replaced with a specially composed piece of 'waking music', composed by The War on Drugs' Jon Natchez. Aluminium, oak, glass, and hip, scientifically validated tunes come together as one.
OneClock, $299, oneclock.co
6. Nokia 5710 XA Phone – a 'dumb' phone with FM radio and MP3 player
Nokia has seen its fortunes ebb and flow as the mobile phone market matured. It's now back in the game. In recent years, the manufacturer has gone back to its roots and issued a range of 'dumb' phones, imitating the styling and simplicity of models like 2000's 3310 (which sold well over a hundred million units). Its latest retro-themed model is the 5710 XA ('Xpress Audio'), a classically simple model that eschews web connectivity in favour of a simple keypad (old school T9 texting ahoy) and a built-in mp3 player and FM radio.
If that's not enough, the XA's pièce de resistance is a pair of wireless earbuds tucked into a sliding housing within the phone that doubles up as a charge case. Add in the company's legendary battery life, and you have a phone that offers a single, pure distraction: music.
Nokia 5710 XA, £74.99, nokia.com
Receive our daily digest of inspiration, escapism and design stories from around the world direct to your inbox
Jonathan Bell has written for Wallpaper* magazine since 1999, covering everything from architecture and transport design to books, tech and graphic design. He is now the magazine's Transport and Technology Editor. Jonathan has written and edited 15 books, including Concept Car Design, 21st Century House, and The New Modern House. He is also the host of Wallpaper's first podcast.