WE11's 360-degree fitness studio opens in London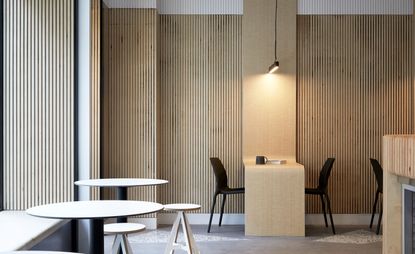 (Image credit: Anna Stathaki)
There are a plenty of technical and attractive looking boutique gyms on offer for fitness-enthused Londoners. But many have the same flashing lights and uninspiring interiors that become repetitive. WE11 stepped away from this trend, creating a uniquely refined approach to gym-going.

Located in Great Portland Street, WE11 is London's newest fitness studio with a fully equipped training studio for therapists and freelance personal trainers. An articulate range of aesthetically pleasing, refreshing and natural products come courtesy of Bergman Interiors, who aimed to bring that 'barefoot luxury' feeling as soon as you walk through the doors.
The space evokes a sense of togetherness. From the objects, to the materials used, the people and the general flow of the environment – everything works 'as a unit, as a community'. The use of natural ribbed timber panels and sustainable gathered finishes, cement flooring with decorated terrazzo and elegant lighting all adds to the well-thought out interior design which conjures a 'zen' appearance. Their aim is to 'move from the darkness into the light, with fresh colours and natural materials.' The café lounge itself has a welcoming reception. Serving delicious, healthy and organic produce, which is available for gym clients and the public.

The wellness clinic made a space to inspire the fitness community, putting attention to detail and establishing an 'energetic guest experience' which is the main theme of the studio. Freelance professional trainers and therapists can book by the hour on a flexible basis to fit around busy schedules.
INFORMATION
For more information, visit the Bergman Interiors website (opens in new tab)