We talk all things fragrance-related with the nose of Hermès, Jean-Claude Ellena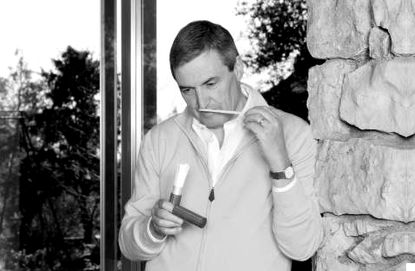 (Image credit: TBC)
We speak with Jean-Claude Ellena, Hermès in-house perfumer since 2004.
How long did you spend in Kerala researching?
I went twice. The first time was for a week in order to discover the place and suit it to me. The second time for ten days, during and after the first monsoon rains, to live it, experience it and write the perfume!
What were your first impressions?
India is full of colours, smells, sounds; a kind of chaos where all the senses become confused.
Were these impressions included in the perfume?
I don't describe all what I see. What I do is more about translating my feelings. This time, because of the confusion of the senses I first felt, I wanted to express the serenity of nature right after the rain.
Were there any elements you were unsure of?
The main difficultly was to 'translate' the idea of water in a vegetal way. The smell of the water, the rainy drops on the leaves, the humidity of the landscapes... I think I found an answer, I hope so.
How would you describe your working process when creating a perfume?
I don't create from a brief but from an experience I live. It might be an experience on the spot, on a real place, as for the Garden-Perfumes; a souvenir from an experience within Hermès, as for Kelly Calèche inspired after a visit at the Hermès leather stock; or a personal creative challenge around a material, as for Hermessence collection. For me, creation means to try to build a road while walking.
Describe a typical day of yours.
Morning is devoted to the real part of creation as my nose is perfectly 'fresh' and also because morning is more my time. The rest of the day is devoted to a technical work on formulas that are work in progress.
What do you try to achieve in a perfume?
To tell a story with smells.
What is your favourite part of creating perfume?
The moment I find the right words - the olfactory notes - to tell the story I want to share.
Do you think you have a signature?
Yes I guess, due to the specific way I compose.
If you had to choose, which is your favourite creation?
I don't want to choose as I feel the best is still to create. I would also prefer being judged on my whole work and not just on some of them.
Which fragrances, from other perfumers, do you admire?
I admire mainly the old Guerlain fragrances. They're the complete opposite of the ones I create and this makes them wonderful.
Receive our daily digest of inspiration, escapism and design stories from around the world direct to your inbox