Water's edge: our pick of the most stylish and sustainable filters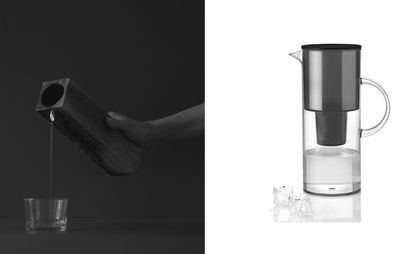 (Image credit: Erik Magnussen and Céline Gabathuler)
Water filters are not only looking more presentable these days, they're also shaping up to be more sustainable, with focus shifting to the purifying properties of natural resources such as charcoal and stone. We are picking out our favourites, as seen in our May 2015 issue (W* 194).
Brands like Black+Blum (opens in new tab) and Kor water (opens in new tab) have been putting a modern spin on the 17th century Japanese tradition of charcoal water filtration, while keeping their designs clean and fresh. Black+Blum's neatly sized bottle made from hand-blown glass contains binchotan active charcoal that mineralises the water and balances pH. Kor's coffee filter style model 'Water Fall' has a detachable carafe from the filter, keeping the process and consuming separate. The filter is made from natural coconut shell and is said to last twice as long normal filters.
For a more colourful approach to water filtration: Stelton (opens in new tab)'s EM Water Filter Jug combines the Erik Magnussen (opens in new tab)-designed jug with a smoke, aqua and azure hued 'vacuum jug' within.
This season, Soma (opens in new tab) launched a new version of its minimalist pitchers. Big enough to purify ten cups in one go, the sleek pitcher uses catalytic coconut shell carbon, removing chlorine, balancing the pH level and adding minerals. The shatterproof frame is BPA-free plastic and the wood for the handle equally sustainably sourced Oregon White Oak.
Meanwhile, Céline Gabathuler (opens in new tab) has been exploring the uses of mineral-rich stone. Her filter, crafted from Valser quartzite mined from the Vals springs in Switzerland, releases vital minerals such as magnesium and calcium into the water when it is left to rest overnight, which ultimately boosts healthy digestion and bone strength. The design of the piece keeps in theme with a shapely carved stone bottle; a small silver spout allowing a slow pour, during which the water is further disinfected.