A new lifestyle emporium in Vancouver reads like a sleek, new world souk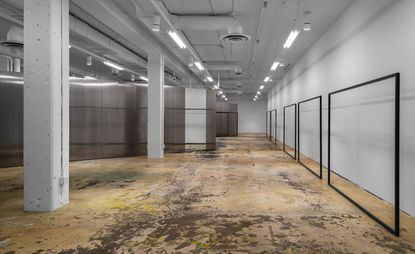 (Image credit: Simone Bossi)
Bucking the trend toward downsized or disappeared retail spaces, Vancouver's new Leisure Center offers an exciting reinvention of the lifestyle store. Built on the bones of an old furniture shop in a 1930s heritage building, the two-storey, 22,000 sq ft emporium of all things chic is a thoughtfully curated meditation on modern luxury. It offers not only fashion but also art, music, books, homeware, cosmetics and refreshments in a space designed by Casper Mueller Kneer that reads like a sleek new world souk.

On the first floor, sections are delineated and the cavernous space made more intimate by L-shaped aluminium panelled walls that function as showcases for garments by Comme des Garçons, Balenciaga and Vetements as well as the likes of MA+, Guidi, Devoa and Vancouver by way of Parsons School of Design alumni Laurence & Chico.
Vancouver's new Leisure Center.
But also on offer is a well edited selection of art, fashion and design books overseen by Donlon Books ('reading is the new luxury' says owner Mason Wu) that winds its way into a section of organic skincare products and aromatic perfumes, that leads to a homeware section with covetable objects by the likes of Tom Dixon, and eventually to a café serving high-end mate and hibiscus-infused herbal concoctions sourced from New York-based apothecary The Alchemist's Kitchen.

Everywhere, the moveable retail feast is embellished by local and international art on display, with a pop up space for installation art in the centre (currently occupied by Myfanwy Macleod's Ramble On – a rusted hulk of a 1977 Camaro) and an ever-changing Johnny Nash-produced soundtrack of local musicians.

Downstairs, private dressing rooms with fabric walls and black glass exteriors offer adjacent lounges where waiting spouses can relax with a drink. Augmenting the fashion-forward ambiance is a gallery/screening/lecture space, and a child's play area under the stairwell finds its adult equivalent in a retro feeling vinyl lounge area complete with 1970s-style speakers purchased on Craigslist.

The whole effect is so inviting that patrons often come to shop and stay for hours. The antithesis of the harshly lit, buy-and-leave-quickly mall experience, the Leisure Center is a retail oasis that elevates shopping to an art.
INFORMATION
For more information, visit the Leisure Center website (opens in new tab)
ADDRESS
Leisure Center
950 Homer Street
Vancouver BC V6B 2W7
VIEW GOOGLE MAPS (opens in new tab)