Totem: Nendo designs logo and bottle for Kenzo's unisex fragrance
Nendo designs logo and bottle for Kenzo's unisex fragrance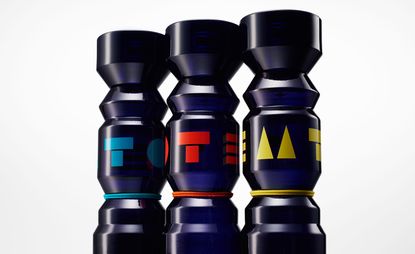 (Image credit: Akihiro Yoshida)
They say you should never judge a book by its cover – nor indeed a fragrance by its bottle – but sometimes the temptation is just too great. Having an equally beguiling bottle and scent helps avoid any bias. To that end, the Oki Sato-led Japanese studio Nendo (opens in new tab) has teamed up with Paris fashion house Kenzo (opens in new tab) to create the look – and logo – of the esteemed brand's new unisex fragrance.
A dark purple glass bottle in the shape of a tiny totem holds Kenzo's three new scents, created for and inspired by a generation of globalisation.
'Where previous generations have felt differences of nationality, language, and religion more acutely,' explains Nendo, 'the younger generation of today have comparatively fewer cultural divides to cross, enjoying a greater shared sense of identity.'
Described as 'a new tribe', the three unique colognes are modeled after the ancient totem poles of Native Americans; a simple structure which stands for an identity and has the power to gather people. Like the wooden monuments they were inspired by, the bottle is made of various segments of different shapes and sizes, stacked to create a solid and monolithic design.
'This simplistic and bold design is a highly symbol-oriented attempt to capture and blend the primal with the transnational; two defining essences of the generation at which this new fragrance is aimed,' says Nendo.
The scents within cater for both men and women: Totem Orange is a floral and zesty scent with bitter orange and vetiver; Totem Yellow a sparkling and joyful take on pink grapefruit and leather woods; and Totem Blue a fruity and sensual blend of pineapple, cardamom and cedar.
A neat black and white chevron design adorns the box, too, should you rather judge the fragrance by it's 'cover'.
INFORMATION
For more information visit Kenzo Parfums (opens in new tab)
Photography: Akihiro Yoshida