The future of beauty: Romy Paris creates bespoke skincare app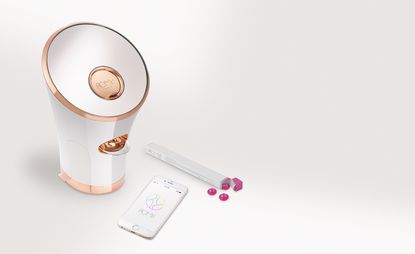 (Image credit: TBC)
When Thomas Dauxerre and Morgan Acas, both aged 35, met on the benches of the Ecole Supérieure de Commerce in Troyes in 2002, little did they know that nine years later they would team up to create the first 'connected' beauty brand: Romy Paris.

With an aim to revolutionise the world of high-end skincare, Romy Paris cleverly combines skincare with technology to provide instant remedies for a range of dermal needs, all in the touch of a button. Born in late 2015 and taking more than five years of research to complete, 'Figure' is a connected formulator and 'beauty assistant', one that can deliver individually crafted creams and serums on demand.

This is achieved by linking 'Figure' to the Romy Paris app via Bluetooth. There, users are asked to complete a detailed questionnaire about lifestyle, skin type and sensitivity. The scanned real-time personal data, which includes local weather, pollution levels and sleep patterns, as well as information collected via Apple's Health app, is then used to recommend specific product formulations, chosen from 1,000 possible active ingredient combinations, and from one of two collections.

The 'Elemental' collection targets every day cutaneous needs including hydration and comfort, while the 'Evolutive' collection responds to stress and lifestyle needs, like lack of sleep or disordered eating. Each collection features a range of sealed capsules, containing the active ingredients. For example, Japanese blood grass reduces the first signs of ageing, Persian silk tree helps regulate melatonin levels and microorganisms found in Antarctic glaciers protect the skin against the damaging effects of cold weather. These capsules are then inserted into the machine and mixed with a cream or serum base, housed in the contraption. Seven-to-nine seconds after the touch of a button, a 1ml dose of cream or serum is created, using the recommended active ingredients as chosen by the Romy app.

The elegant design was conceived by Sebastien Servaire of Servaire & Co, whose intention was to create an object of beauty that would also reflect the Romy experience – defined as sensual, powerful and attractive. With a minimal oriented interface and rose-gold finishes, 'Figure' is not only easy on the eye, but this ultra-modern approach to next-generation skincare also sets high standards within the industry, embracing the future of beauty with confidence.
INFORMATION
'Figure' can be pre-ordered now via the Romy Paris website