Spring books: leaf through the top titles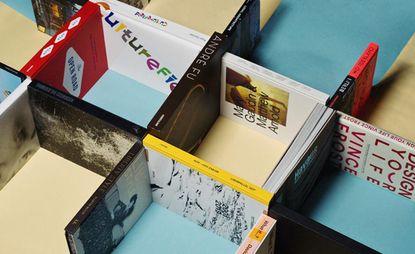 (Image credit: TBC)
Wallpaper* Newsletter
Receive our daily digest of inspiration, escapism and design stories from around the world direct to your inbox
Thank you for signing up to Wallpaper. You will receive a verification email shortly.
There was a problem. Please refresh the page and try again.
André Fu

Hong Kong architect André Fu was just 30 years old when he set a new benchmark for hotel interiors with his design of The Upper House. A decade on, an eponymous monograph published by Assouline profiles the hotel and 14 other projects that define Fu's idiosyncratic 'new Asian style' - a quietly assured blend of Oriental serenity and international luxury. A comprehensive visual inventory of 93 photographs and 6 sketches is paired with insightful commentary on inspiration offering an insight into how the young designer is fast becoming a defining figure in contemporary interior design. The 176-page tome includes forewords by Stephen Alden and Emmanuel Perrotin. Project highlights include London's The Berkeley Hotel's Opus Suite and Fu's distinctive collection for Tai Ping Carpets.

Published by Assouline. Available at Assouline, selected Louis Vuitton stores and The Upper House

Writer: Catherine Shaw
From the book:
'Plenty of people think of hospitality design solely in terms of luxury and the visual experience, yet for me, the purpose of great hospitality is for the guest to be indulged, right down to the most basic requirements - it is the thoughtfulness behind the design that makes a successful hospitality experience' says Fu. Pictured is the opulent yet informal IST TOO restaurant in Istanbul's Shangri-La Hotel.
With minimal text, this book relies on the sumptuousness of its photographs, such as this one of the velvety interior of the IFC Residence in Shanghai.
The Clifford Pier resturant in Singapore - originally designed in 1933. Fu used the site's heritage to maximum advantage, bringing its old-world maritime charm up to date.
Champagne gold and flickering candlelight shimmer in one of the book's magnificent photographs.
Van Schijndel House: The House of Architect Mart van Schijndel
By Natascha Drabbe, Hans van Heeswijk and Arjen Oosterman

The 90s is not a decade associated with iconic architectural treasure houses, but the late Mart van Schijndel's own home in Utrecht is already on the Netherlands' register of historic monuments. This new book (with film included) offers a tour of the innovative structure, complete with elegant graphic design by the award-winning Dutch firm of Kummer & Herrman. Everyone involved in the project stayed in the house to better immerse themselves in the atmosphere and details of a modest triangular structure that still took its owner six years to build.

Published by NDCC Publishers, €29

Writer: Jonathan Bell;
From the book:
Included in the book is Arjen Oosterman's essay, 'The House as a Psychological Self-Portrait' - a fascinating insight into the architect's relationship with his home.
Van Schijndel bought the house from the Utrecht council when he was 45, after eight years of waiting. He then left it untouched for four years before starting work on it.
Van Schijndel's scarlet chairs and grand piano, which feature in so many of the book's photographs.
Also in the book is an interview with van Schijndel's wife, the architectural historian Natascha Drabbe. She still lives in the house and says the reason she loves it so much is 'the silence and the light, I always want people to experience the light falling in a certain way - those are the moments the house was designed for.
Design Your Life
By Vince Frost

Vince Frost is a legend in the creative community. His work transcends typography and has been the foundation of many major corporate identities, redesigns and branding exercises. Now based in Sydney, Frost's latest venture is Design Your Life, a self-described self-help book that aims to take the principles of good design - rigour, structure, order and intelligence - and use them to transform every aspect of your life. Sign up now for a true designer existence.

Published by Lantern, AUD$49.99

Writer: Jonathan Bell;
From the book:
'Principle 10: Say "YES" and Mean It.'
'Principle 07: Question Everything.'
'trust the one person you can control.'
What If...? The Architecture and Design of David Rockwell
By Justin Davidson

Although David Rockwell needs no introduction to Wallpaper* readers, the history of his work to date offers a fascinating insight into the design and construction of high-end interiors, innovative products, stage sets and technological firsts. 'What If…?' contains three decades of work, finishing up with a conversation with fellow New Yorker Elizabeth Diller that explores every facet of the every-changing Rockwell approach.

Published by Distributed Art Publishers, $45

Writer: Jonathan Bell;
From the book:
Boundlessly inquisitive, 'What If...?' asks over and over the type of questions that will, if you're David Rockwell, bring about change. Questions like 'What if a restaurant became a hotel?' led to the Rockwell's work at the Nobu Hotel in Las Vegas, pictured.
Perhaps the most joyful pages come courtesy of the question 'What if you could make playgrounds portable, and kids could ask, "What if...?"' Pictured: the Imagination Playground.
'Asking "What if...?" leads to unexpected combinations. We seek forms and materials that conventionally don't go together to create new hybrids - mash-ups that would not otherwise have been imagined.'
Last is More: Mies, IBM and the Transformation of Chicago
By Robert Sharoff and William Zbaren

Few places felt the monumental impact of the International Style more heavily than Chicago, where the glass block skyscraper reigned supreme for decades. Few architects embodied this approach more succinctly and stylishly than Ludwig Mies van der Rohe. In 1972, the city's IBM Building opened, a 52-storey slab of aluminium and bronze representing the might of the mainframe and the acme of the late architect's rigorous aesthetic (he died three years earlier). The tower was recently converted to the Langham hotel by Richmond International architects, with a lobby by Dirk Lohan, Mies's grandson, and the entire process - and history of the tower - is set out in 'Last is More'.

Published by Images Publishing, $50

Writer: Jonathan Bell;
From the book:
Looking back over his portfolio, Sharoff and Zbaren take in some of Mies' other Illinois masterpieces, including the recessed glass lobbies of 860-880 North Lake Shore Drive.
Alexander Calder's steel 'Flamingo' cutting a shape in the plaza of Mies' final steel-clad project, the Federal Center.
Mies' iconic IBM Building, looming dark on Chicago's skyline as one of the city's greatest landmarks.
Zbaren's shot of the Langham Hotel's lobby, as it stands now.
Culturefield
By Ryan Gander

Ryan Gander's art often defies easy categorisation, but it does lend itself to the kind of in-depth exploration found in his new monograph, 'Culturefield'. Revealing a mind in perpetual motion, with work that encompasses sculpture, film, drawing, performance and painting, Gander is a leading light in the transient realm of contemporary artistic production, where no medium is off-limits and the detritus and tropes of pop culture feed back into the work in an endless cycle.

Published by Koenig Books, £45

Writer: Jonathan Bell;
From the book:
'I is...(i)', 2012. A marble sculpture representing a den made by the artist's two-year-old daughter.
'It's got such a good heart', 2012. A large sculpture sited in the lion enclosure at Mexico City Zoo.
'Porthole to Culturefield Revisited', 2010. A porthole positioned high up out of the reach of the spectator, from which a muffled version of the song 'Rouge' by Miles Davis is barely audible.
'The way things collide (Rimowa, meet skate wing)', 2013. An unfinished carving of a partially exposed Rimowa Salsa Cabin Multiwheel suitcase with a skate wing placed on top, protruding from a single block of carved lime wood.
Rich and Poor
By Jim Goldberg

The subject matter might have been shot in the 70s and 80s, but the stark divides chronicled by Jim Goldberg's camera have, if anything, yawned wider in the years that followed. Goldberg's 'Rich and Poor' makes for uncomfortable viewing, especially as the striking black and white photographs are accompanied with hand-written quotes from their subjects. These are frequently bleak, always revealing and sometimes uncomfortably amusing ('Poor people's lives are less complicated, they do not have to worry about running such a big house… or the servants wearing spotless white uniforms.').

Published by Steidl, €65

Writer: Jonathan Bell;
From the book:
Of another photograph, the father in this shot wrote: 'I love David. But He is To Fragile for a Rough father Like Me'. Courtesy of Jim Goldberg
'To my discomfort, I am often considered a grand dame. I know how to behave in most circumstances whether with inferiors or superiors, without attracting attention. I was properly brought up. To the manor and manners born'. Courtesy of Jim Goldberg
'We want to live with style!' Courtesy of Jim Goldberg
Goldberg turns his lens to the more affluent, creating portraits as disquieting as even the most desperate of those less well off. Courtesy of Jim Goldberg
Works 2001 – 2019
By Joël Tettamanti

Swiss photographer Joël Tettamanti is a familiar and welcome fixture on Wallpaper's pages. Over the years, he's reported from a variety of far-flung destinations, imbuing architecture and place with the big, open canvas of the landscape photographer. The title of his latest monograph, designed by onlab, sounds unduly prescient, but the publication is designed to exploit the potential of print on demand. As a result, updates and new portfolios are regularly added and each copy can be personalised with the addition of a colour-reproduction of the buyer's photo of choice.

Published by Benteli, €38

Writer: Jonathan Bell.
From the book:
Untitled, Switzerland, 2009.
Untitled, Bangladesh 2012.
Untitled, Azerbaijan, 2010.
The Open Road: Photography and the American Road Trip
By David Campany

Thanks to the camera, the romance of the open road has entered the popular imagination, shaping an image of the American interior that persists to this day. Campany's book looks at the work of those photographers who devoted themselves to creating travelogues, from the pioneering work of Robert Frank through William Eggleston, Joel Sternfeld and Alec Soth, with maps charting the locations of some of the best-known shots in photographic history.

Published by Aperture, £40

Writer: Jonathan Bell.
'July 15. Friday. Practically nothing announces the approach of one of the most extraordinary places I was to see on this trip, grown out of the barbaric desires to gamble and gain and forget, Las Vegas receives you, wearing stage makeup in full daylight with the sophistication of a ham actor in an ambulant road show' - Photographer Inge Morath on her arrival in Vegas, shot here in 1960.
One of Joel Meyerowitz's kaleidoscopic glimpses of Florida, taken in 1970 when he was crisscrossing the country.
Down the Long Driveway, You'll See It
By Mary Gaudin with text by Matthew Arnold

Every country has its own experience of Modernism. Some have made it a national style, others have swept the experiments under the carpet, where they stay the preserve of obsessives and aficionados. The houses chronicled in photographer Mary Gaudin's survey of New Zealand architecture are all fine examples of the period, lightly patinated but all essentially original and bedded into lush surroundings. The International Office's modest layouts make these modest homes heroic and in a way they certainly are; idiosyncratic experiments that still fulfil their functions to perfection.

Available from downthelongdriveway.com, 65 NZD

Writer: Jonathan Bell.
From the book:
Borne out of a desire to record and renew her connection with New Zealand's modernist architecture, Gaudin's photographs are as much about the details as they are the bigger picture.
Pictured is the Lang House, designed by Ernst Plischke, exactly the same as it was in 1953 thanks to Category 1 heritage listing - not a taupe carpet or extension in sight.
Stillness and calm: a bookshelf in Tom Taylor's inner-city oasis, the Sutton House.
Liberty Style
By Martin Wood

Reality television might be usurping the lavish publication as a means of getting a message across, but there's no denying that the printed page is the best place for a story as visually rich as that of Liberty. Occupying pride of place on Regent Street through times thick and thin, the half-timbered treasure house has proved a design-friendly destination for fashionable Londoners for over 130 years. Martin Wood's official tome explores the in-house creativity offered by a host of big name designers.

Published by Frances Lincoln, £35

Writer: Jonathan Bell.
From the book:
The Lotus collection, with its updated Nouveau patterns designed by William Poole, photographed in the Crush Bar of the Royal Opera House, c.1960. Courtesy of Westminster Archives
Liberty 'Dolphin' tiles in one of the bathrooms of Tjolöholm Slott in Sweden. Its owner in 1898 enlisted Liberty to help with the interiors. It remains one of the finest examples of a Liberty house.
One of Eric Lucking's iconic window displays for menswear, c.1950.
DABBOUS: The Cookbook
By Ollie Dabbous

Every now and again, a chef comes along with sufficient vision and drive to create a restaurant that becomes a major destination. London's DABBOUS was opened by Ollie Dabbous in 2012 to great acclaim (and a Michelin star). His first foray into publishing brings together some of the seasonally inspired dishes that made his name.

Published by Bloomsbury, £50

Writer: Jonathan Bell;
From the book:
Mara des Bois Strawberries; Tahitian Vanilla Ice Cream: 'unquestionably my favourite ice cream...marshmallow-like, virginal and rounded,' says founder Ollie Dabbous.
Included is the recipe for Dabbous now-infamous Coddled Egg, Smoked Butter and Mushrooms, which sits in a bed of hay.
Planetveien 12: The Korsmo House - a Scandinavian Icon
By Elisabeth Tostrup

This seductively straightforward monograph tells the story of a seductively straightforward house. Arne Korsmo was one of Norway's most prominent functionalists, and the Oslo house he designed for himself and his artist wife Grete Prytz Kittelsen is one of the country's prized architectural treasures. Tostrup's book chronicles the house's gestation and evolution, filled with warm imagery of its classically Scandinavian interiors and elegant detailing.

Published by Artifice Books, £24.95

Writer: Jonathan Bell;
From the book:
Arne Korsmo in the terraced garden. Courtesy of the National Museum for Art, Architecture and Design, Oslo
In between the charming black and white photographs of Planetveien 12 are shots in glorious technicolour. Pictured is the living room as seen from the hall.
Dancing in the kitchen. Courtesy of the National Museum for Art, Architecture and Design, Oslo
Looking from the living room through the hall to the kitchen.
Havana: Autos and Architecture
By Norman Foster and Mauricio Vincent

The cars and architecture of Cuba have enthralled many an enthusiast over the years. As the country's time capsule status starts to lose its lustre, this new volume from Lord Foster and Mauricio Vincent might be one of the last chances to sample the relationship between the country's fading architectural grandeur and enduring automotive legacy, a love affair driven largely by necessity. Nigel Young's photographs capture the forms that still symbolise the city's automotive infrastructure, together with the cityscapes they inhabit.

Published by Ivory Press, £60

Writer: Jonathan Bell;
From the book:
An ancient 1951 Buick stands ahead of the Capitolio Nacional - once the fifth largest dome in the world; a picture of fading status and glamour.
But this book also focuses on another side to Havana's story - that of the city fully alive. Here, a 1954 Pontiac (still a common model) in front of Universidad de la Habana where the city's students continue to gather.
Crusellas House (1908) has one of the most elaborate are nouveau façades in the country. The car driving past is a 1952 Chevrolet.
Pastels and brights on calle Cárdenas.
Berlin Wonderland: Wild Years Revisited 1990-1996
Edited by Anke Fesel and Chris Keller / bobsairport

In all the media noise surrounding the 25th anniversary of the fall of the Wall, very little attention has been paid to what happened next. Before money, brands and government rushed in, the immediate aftermath of reunification saw an influx of creative minds seeking out cheap rents and a vibrant art and music scene. 'Berlin Wonderland' is a photographic exploration of these wild years, with the work of a select group of photographers chronicling everything from parties, both political and after hours, to the rapidly changing cityscape.

Published by Die Gesalten Verlag, €29,90

Writer: Jonathan Bell;
From the book:
Interspersed between the photographs, quotes from those who were there pepper the pages: 'Our basic feeling was: these are our buildings, this is our city - it all belongs to us.'
'Tankhenge' by the anti-military Mutoid Waste Company stands tall in front of the Reichstag in 1992.
The dark side of Wonderland comes out in images such as this, of anti-riot action on Kollwitzplatz on May 1, 1994.
'"Everything is possible" was a graffiti slogan that a friend of mine painted on the walls of Berline-Mitte. During that time I discovered how true it was. But within the complexity of all new experiences, the question was where to find it: in the micro or the macrocosmos.'
Local Architecture: Building Place, Craft and Community
By Brian MacKay-Lyons

Over the past decade and a half, the Canadian architect Brian MacKay-Lyons has hosted like-minded students and architects at his Newfoundland retreat. These 'Ghost Labs' have been a cradle for a new conversation about modern architecture, one that is steeped in craft, vernacular forms, and a strong sense of place. It's also a modest movement, and the architects who have come along from the ride aren't usually found emblazoning their brand across great chunks of cultural infrastructure. Instead, the work of Rick Joy, Olson Kundig, Rural Studio and others have heralded a quiet revolution, chronicled in this new extensively illustrated book.

Published by Princeton Architectural Press, £30

Writer: Jonathan Bell;
From the book:
The Pierre, in San Juan, designed by Tom Kundig - 'the expression of the craft of making.'
Francis Kéré's secondary school and library in Gando, built in 2007 – 'architecture of the earth in its purest form.'
As well as work by other architects, the book touches upon work by MacKay-Jones Sweetapple too, such as the Two Hulls House in Novia Scotia, designed by MacKay-Lyons Sweetapple in 2011.
Beautiful Lego 2: Dark
By Mike Doyle

The legendary Danish bricks continue their relentless march into all nooks and corners of the popular consciousness in this new monograph of independently-styled sculptural creations. Dark chronicles the work of master builders the world over, whether professional or strictly home-grown, all of whom have managed to transform the celebrated toy system into a neo-gothic playground.

Published by No Starch Press, $39.95

Writer: Jonathan Bell;
From the book:
In a chapter titled 'Indulgences' sit images of all manner of (almost) toothsome treats, from Creme Eggs and Twix Bars to this 'Sickening Sweet' feast by Mike Doyle, constructed from around 10,000 pieces. Courtesy of the artist
Lino Martins' 'White Beetle' from 2012. Courtesy of the artist
Life in the Woods: Creative Cabin Architecture
By Philip Jodidio

The romance of the humble cabin continues to shape our vision of retreat architecture. Cabins is a typically Taschen assemblage of large-scale photography and insightful text, an ensemble given a warm contemporary edge through the illustrations of Marie-Laure Cruschi. There's something about the fusion of vernacular simplicity, elegant detailing and stunning sites that makes this the perfect armchair excursion into the woods.

Published by Taschen, £49.99

Writer: Jonathan Bell;
From the book:
The Cabanos no Rio huts, made entirely from reclaimed wood. © Nelson Garrido
Throughout the book, large-scale images of huts and cabins around the world offer glimpse of what life might be like outside the world of sky-rises and coffee table books…© Pasi Aalto
The Fragile Shelter, designed by Japandse architect Hidemi Nishida - 'a temporary shelter in the wild winter forest.' © Hidemi Nishida Studio and Anna Nagai
Anthony Caro
By Anthony Caro and Toby Glanville

Few sculptor's oeuvres lend themselves better to the large-scale monograph than the late Sir Anthony Caro. In a career defined by size, Caro's most notable works are monumental forms, typically shaped out of coloured steel, designed to engage the viewer as if they were a piece of standalone architecture. This new monograph includes analysis and reproductions of 50 key pieces, including the genesis behind their creation, along with new archive

Published by Phaidon, £75

Writer: Jonathan Bell;
From the book:
'Lap' by Anthony Caro, 1969. © Anthony Caro/Barford Sculptures Ltd. 2014; Courtesy Anthony Caro/Barford Sculptures
'[My sculpture] is to do with a fusion of form and content into something like an expression…It seems to me the colour is rather like titling the sculpture, not much more than that.' Just one of the quotes that punctuate this book, allowing us a glimpse into Caro's creative processes. Pictured: 'Early One Morning', 1962. © Anthony Caro/Barford Sculptures Ltd. 2014; Courtesy Anthony Caro/Barford Sculptures
'I would like to make…A sculpture city to wander in, a real world as immediate as this' Pictured: Caro's sculptures installed at Trajan's Forum at the Trajan Markets, Rome in 1992. © Anthony Caro/Barford Sculptures Ltd. 2014; Courtesy Anthony Caro/Barford Sculptures
Earthquakes, Mudslides, Fires and Riots: California & Graphic Design 1936-1986
By Louise Sandhaus

Visual sensationalism has always been part of the West Coast art scene, an environment where the avant-garde has taken root and embedded itself into the culture. This handsome visual survey of half a century of innovation dovetails with the birth of glamorous Hollywood, the social upheaval of the 60s and the cut-and-paste precursors to today's digitally-driven image making.

Published by Thames & Hudson, £39.95

Writer: Jonathan Bell;
From the book:
Tracking the development of the LA-inspired psychedelic scene in San Francisco, Sandhaus sheds light on the role of graphics in music promotion in works such as this: a poster for The Who (with Fleetwood Mac) designed by John van Hamersveld and Victor Moscoso in 1968. © Pinnacle Productions 1968, used with permission from John van Hamersveld and Victor Moscoso, Courtesy of John van Hamersveld and Victor Moscoso
Sandhaus also looks at how the supergraphics of the late 60s began to be employed architecturally, as in the interiors for The Sea Ranch Athletic Club. Courtesy of Barbara Stuffacher Solomon; Courtesy of Adrian Shaunessy
Employing her special zing, Deborah Sussman crafted a typographic wonderland for the signs of Joseph Magnin, the cutting-edge department store of 60s California. Courtesy of Sussman/Prejza & Co., Inc.
Le Corbusier: Le Grand
Edited by the Phaidon Editors

A titan of architecture deserves a titanic book, and Le Grand is a suitably scaled homage to a career that still resonates around the global architectural scene. Billed as the definitive tome on a defining career, Le Grand crams 2,000 images into its 750-plus pages, covering every aspect of the architect's life, work and legacy.

Published by Phaidon, £100

Writer: Jonathan Bell;
From the book:
Sketches of le Grand Confort chair by Le Corbusier and Charlotte Perriand. Courtesy of Fondation Le Corbusier, Paris
Le Corbusier's Maison A, showing his polychrome colour theory in practice beneath the Catalan vault. Courtesy of Tim Benton
The architect with one of his paintings from the 'La poème de l'angle droit' series. Courtesy of Fondation Le Corbusier, Paris
Objects: Rock On
Edited by Antonia Henschel

Stone is making something of a comeback in the designer's portfolio. New techniques allow this most venerable of materials to be shaped, shaved, compacted and compressed, incorporated in all manner of furniture creations. Assembled by Antonia Henschel, Rock On includes the work of Bethan Gray, Scholten & Baijings and Konstantin Grcic, as well as a survey of some of the more classic examples of stone-led design from the last few decades.

Published by Trademark Publishing, €32

Writer: Jonathan Bell;
From the book:
In this visual renaissance of stone in contemporary design, Antonia Henschel looks at a range of designers that use both archaic practices and new processing techniques. Max Lamb is one designer utilising engineered marble in his pieces, as in this chair for Dzek, created in 2014.
Krzysztof J. Lukasik's Ecal/Pétrifications, made from marble, limestone and volcanic rock.
Jonathan Zawada's 2004 marble table for Matter Made
Marble, oak, walnut and powder-coated steel tables by Philipp Mainzer for E15
The Last Book
By Reinier Gerritsen

A photographic elegy for the book itself, Dutch photographer Reinier Gerritsen tasked himself with documenting the reading habits of commuting New Yorkers. In this age of ubiquitous personal screens, The Last Book makes the point that print is having a valiant last stand, and the timeless appearance of these images of studied concentration will soon be consigned to history. Although we don't share in this doomy prediction, The Last Book certainly adds an apocalyptic gloss to a simple act.

Published by Aperture Foundation, $65

Writer: Jonathan Bell;
From the book:
Gerritsen's book of books organises photographs by author's surname, almost like a visual index. Here, a subway rider engrosses herself in Tobias Wolff's The Barracks Thief.
'Percy, Walker'