Creative caffeine: the 'Collar' coffee set, by Stelton and Something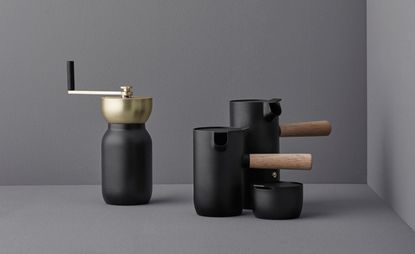 (Image credit: TBC)
Stirring up interest among coffee connoisseurs is a new brewing collection from Danish brand Stelton. Designed by Italian studio Something Design, the 'Collar' collection has been created for the most astute of caffeine aficionados.

The objective of the new collection was clear for the studio: to rid perceptions of the tiresome nature of brewing coffee and instead to inject some enjoyment back into the ritual. In order to achieve this, the new range offers a coffee grinder, jar, milk jug and sugar bowl. The selection of items combines to create a collection that Something professes 'is made by one coffee lover for another'.

Although focused on a fundamental objective of practicality and process, the new arrangement does not falter visually. Inspired by Scandinavian aesthetics, the pieces have a matte black finish that would carve a dynamic silhouette in any design-conscious kitchen. Further emphasising a superior style, the collection is imbued with a contemporary finish via the juxtaposition of Teflon coated steel and oak wood handles.

The principles of Something's founders are evident. Designer-duo Daniel Debiasi and Federico Sandri founded Something in 2010, with the ambition of creating a variety of items that provide a platform for a 'continuous dialogue encouraged by spatial, cultural and behavioural observations'.

Part of Stelton's A/W2016 collection, the 'Collar' range will be in stores from September.
INFORMATION
For more information, visit Stelton's website (opens in new tab)