Dressing clever: Emel + Aris creates revolutionary heated jacket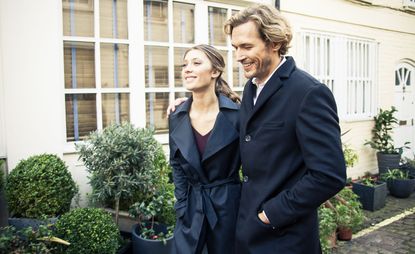 (Image credit: TBC)
Take high-performance technology, pair with British-made sophisticated design and heat to your heart's desire. Rana Nakhal Solset, founder of Emel + Aris, did just that – and the heated 'Smart Coat' was born. The first of its kind, the jacket transforms wearable technology into intelligent clothing that adapts to your ever-changing environment.

Emel + Aris's coats are revolutionary from the inside out. To create heat, a specially formulated lightweight polymer is used that sits within the coat's lining. This produces far infrared heat energy, quickly absorbed by the skin to warm up the wearer's muscles and increase blood flow. The polymer is inert and the infrared rays are 100 per cent undamaging so getting warm is as safe as it is satisfying.

A bespoke, compact battery powers the jacket, connected by a short cable and hidden within a waterproof pocket. It features a USB port to refuel your phone so you can stay connected as you stay warm. Because the jacket heats through panels on the chest, waist and lower back, there are no hot spots and with no wires, short-circuiting or overheating; wearers can move normally while embracing every season. Three levels of heating – 1 (low), 2 (medium) and 3 (high) – allow for easy temperature regulation at the touch of a button.

Crafted entirely in Europe, the neutral-coloured garments feature Italian Loro Piana fabrics and 'Storm System', a double barrier, breathable repellent that protects wearers from the elements.

Emel + Aris will be debuting four versions of the coat: two tailored, sleek styles for men and two elegant, wrap styles for women. The lighter, cotton version flexes effortlessly in variable weather, while the heavier wool and cashmere version is ideal for autumn and winter.

Easily adjustable to fit your lifestyle, 'Smart Coat' rewrites the rules on clothing expectations.
INFORMATION
For more information, visit Emel + Aris' website (opens in new tab)
Coats offered on Kickstarter from 11–13 March: women's trench, £450; men's raincoat, £595; women's wrap, £595; men's overcoat, £650. Also a available as a Kickstarter exclusive is a 100 per cent cashmere version of the wrap or overcoat for £2,500.
From autumn: women's trench, £1,095; men's raincoat, £1,295; women's wrap, £1,295; men's overcoat, £1,395