Playing with food: Rick Pushinsky's family recipes are given new life in Just Not Kosher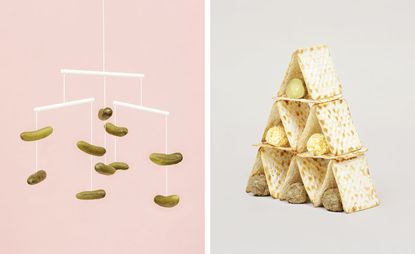 (Image credit: Rick Pushinsky)
The heart of the home is the kitchen – or at least, what comes out of it. This is something that photographer Rick Pushinsky understands well. His father, Steven Morris, took charge of family meals in their household, and Pushinsky has collated their most treasured recipes into a delightful new collection of recipe cards that not only documents the dishes – shot in Pushinsky's minimal, playful style – but the personal memories they evoke when eaten.

Originally intended as a family archive of 60 years of 'making a mess in the kitchen', rather than for public consumption, Just Not Kosher is not about haute cuisine, but offers Jewish home cooking (all the recipes are optionally Kosher) with a twist – ingredients imbued with additions from holidays abroad and family gatherings. Among the 21 recipes, expect classics like chicken soup, chopped liver, baked bananas and crepes suzette – each tweaked, perfected and passed on through generations of the family.

'It's near impossible to leave my parents' house without having overeaten,' Pushinsky says. 'For me, all these recipes represent home.' Pushinsky's personal favourite is the recipe for egg and onion, served as Shabat dinner during his childhood.

Each card is practically laminated, and is designed to be used: rather than putting sticky fingers on an iPad or getting grease on your book, Pushinsky's idea was to revive this long lost 1970s tradition – interspersed with old family photos as well as Pushinsky's still lives, juxtaposing the past and posterity, meals enjoyed and meals to come.

As anyone knows, even within a family, getting hold of secret heirloom recipes can be tough; Pushinksy and Morris' venture is a rare and generous gift.
INFORMATION
Just Not Kosher is published on 16 October, from £20, edition of 500. For more information, visit the website (opens in new tab)
Charlotte Jansen is a journalist and the author of two books on photography, Girl on Girl (2017) and Photography Now (2021). She is commissioning editor at Elephant magazine and has written on contemporary art and culture for The Guardian, the Financial Times, ELLE, the British Journal of Photography, Frieze and Artsy. Jansen is also presenter of Dior Talks podcast series, The Female Gaze.