Revo celebrates the age-old kinship between music and beer
Scottish craft brewer Innis & Gunn raises the bar with cask re-use project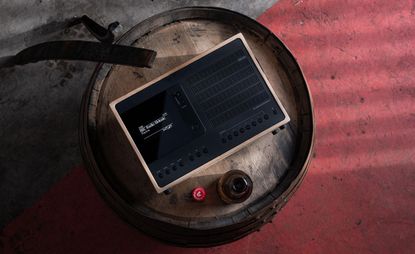 (Image credit: TBC)
Earlier this year, Innis & Gunn revealed it would pay homage to Scotland's relationship with the humble grain through a new four-piece collection titled 'Project Ampersand'. Partnering with four of what it calls 'the leading lifestyle brands in Scotland', the brewer tasked each with exploring the various characteristics of its multi-award-winning barrel-aged ale, The Original, through their respective disciplines.

For the collection's third entry, the brewer turned to audio tech designer Revo to tangibly commemorate the age-old kinship between beer and music. The tech brand consequently drew up a celebratory design marrying its award-winning digital technology with a splash of Innis & Gunn history through the Ampersand SuperConnect: a creative riff on its signature connected digital radio.

Revo was inspired to think outside the box upon a visit to Innis & Gunn's Speyside cooperage. The tech brand was quick to notice the multi-sensory significance of the brewer's bourbon barrels, which imbue its ales with sweet notes when maturing. Enamoured, Revo took to reimagining its radio's speaker cabinet through the use of the barrels' light oak staves, shaking up its design with a bold new look and giving its audio a warmer tone.

Each Ampersand SuperConnect has slight grain and colour variations, making each radio in the edition a true one-off. For added sentimentality, the coordinates of the yard where the staves were sourced for each radio have been laser-etched onto their corresponding surfaces.
INFORMATION