Punkt launches new Jasper Morrison-designed mobile for mindful communication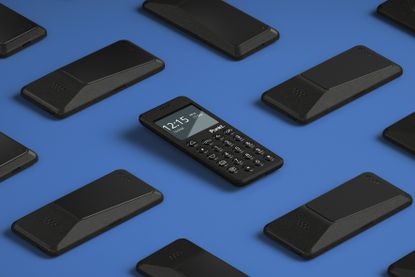 (Image credit: Punkt )
As the rapturous applause dies down at the Steve Jobs Theater in Apple Park, another mobile launches across the pond; albeit more understatedly. Punkt – a small Swiss technology company established by Petter Neby in 2008 – has released the second edition of its mindful mobile telephone at London Design Festival (where bells, whistles and livestreams are eschewed in favour of a quiet drink at The Rosewood).

If technologists are the rock stars of today, Petter Neby is the drummer. Rarely stage-diving, but always exuding a nonchalant brilliance (and making everything sound good), Neby's products reflect his attitude. Back in 2015, we heralded the Jasper Morrison-designed Punkt MP01 as 'irresistibly compact and refined'. It was about as 'un-smart' as a smartphone could get – all it did was call, text (on satisfying click-buttons), and look sharp. This was basic telephony at its deepest.

The Punkt MP02 has upped the complexity, but not the ethos. As Neby says, 'Both editions are Ferrari's – we've just re-tuned the engine.' Designed again by Morrison, with minimal aesthetic tweaks, the new MP02 benefits from 4G LTE, making it available for use all over the world; it has the ability to tether to another device (a laptop or tablet); and it features BlackBerry Secure Software – the first ever non-BlackBerry handset to have this.
'People used to say, "Why on earth have you made an un-smart phone, in today's climate?"' Neby explains of the MP01. 'Back in 2015, it was met with utter surprise – but the landscape has shifted fundamentally since then.' Customers are much more aware of the pitfalls of smartphones, Neby explains, no small thanks to the global eye trained on smartphone addiction, cyber-bullying, and privacy issues.

The Punkt MP01 was initially pitched towards conscious consumers after an alternative to the smartphone scrollathon lifestyle. It was picked up by a community of digital detox-ers, who celebrated it as the antidote to the echo chambers of contemporary communication. But Punkt was never intended to be retrogressive, or 'anti-technology'; instead, it was intended to offer you a genuine choice. 'Rather than just creating a new phone with a slightly new screen, or different ergonomics, we're asking people to question their fundamental relationship with technology,' Neby explains. 'We soon found that the MP01 would unlikely serve as a solo device, but a supplementary one that you would use on holidays, weekends or when the office was closed.'

The Punkt MP02 offers this sense of choice between connection and disconnection within one product. With the addition of internet tethering capabilities (that, it's important to note, can be switched off at will), the Punkt proposition has become less about digital detoxing, and more about digital balancing. Everything in moderation. The MP02 is designed to be used together with a tablet, giving the user an adequately-sized screen for writing texts, viewing websites, and using maps. It creates two separate devices that each do their job well, rather than a single 'jack of all trades, master of none' that's only really good at one thing: distraction. The tablet stays in your bag until you decide to use it. Or it stays at home. And you get to live your life with your head up.

As such, it remains a phone geared around speaking, through great ergonomics with excellent audio quality. Unlike smartphones it won't pester you with notifications during a conversation. It doesn't roast the side of your face, either. 'A lot of our customers are executives, lawyers, bankers. They know that to get something done you pick up the phone,' says Neby. 'I see it happening in my own company, and it's how we like to work – by actually talking to each other.'

What Neby and his team have proven with the MP02 is quietly remarkable – which seems to be becoming quite the trademark. Even in the tomorrow-seeking world of mobile communication: 'simplicity' isn't the enemy of 'futuristic'; and technology doesn't have to be newfangled to be revolutionary.
INFORMATION
For more information, visit the Punkt website (opens in new tab)
Elly Parsons is the Digital Editor of Wallpaper*, where she oversees Wallpaper.com and its social platforms. She has been with the brand since 2015 in various roles, spending time as digital writer – specialising in art, technology and contemporary culture – and as deputy digital editor. She was shortlisted for a PPA Award in 2017, has written extensively for many publications, and has contributed to three books. She is a guest lecturer in digital journalism at Goldsmiths University, London, where she also holds a masters degree in creative writing. Now, her main areas of expertise include content strategy, audience engagement, and social media.