Pass the Baton: Third machiya townhouse 'recycle store' opens, in Kyoto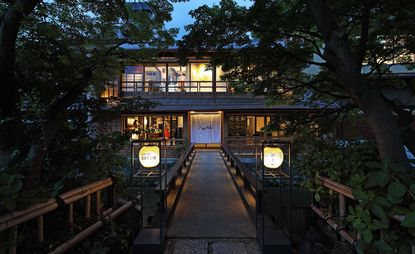 (Image credit: Baton, Gion, Kyoto)
With the opening of Pass the Baton (opens in new tab)'s third boutique in the historic Gion district of Kyoto, the eclectic second-hand shop has taken its fantasy world a step further from the two locations in Tokyo, by adding a small cafe-cum-bar to the fun and slightly provocative retail space. Collaborative products created with some of Kyoto's most prominent craft companies – such as mall corsages made of Nishijin silk fabrics from Hosoo (opens in new tab), or nicely patinaed copper tea canisters from Kaikado (opens in new tab) – have also been added to the retail mix.
Charismatic retail guru Masamichi Toyama (CEO of Smiles Co. Ltd, and the brainchild behind the Soup Stock Tokyo (opens in new tab) chain of healthy soup cafes and fashion brand Giraffe) opened the first Pass the Baton in 2009 in Tokyo's Marunouchi as a way for celebrities and Tokyoites to resell fashion items and other prized possessions at a price higher than offered at most regular 'recycle shops', as Japan's charity and second-hand shops are commonly known. Most items even come with a small tag that notes the previous owner and the story behind the product, both to coax customers into buying the piece and to differentiate Pass the Baton from regular 'vintage' stores.
As with the two Tokyo outlets, the interior of the Gion shop has been designed by WonderWall's Masamichi Katayama, who has treated the small, listed machiya townhouse with a cornucopia of textures (including reclaimed wooden floors in the cafe area and shiny white tiles in the retail areas) and fittings (special made paper lanterns, and antique Japanese chest-of-drawers and shelves built into the walls) – all nicely contrasting with the house's traditional fittings (paper sliding screens, tatami flooring and earthen walls) deemed too good to change.
From the outside, the shop looks like many of the pleasant restaurants and cafes lining the Shirakawa River, but stepping inside is like falling down a rabbit hole, into Toyama's wonderland of carefully curated, recycled wares.
INFORMATION
For more information, visit Pass the Baton (opens in new tab)
ADDRESS
Pass the Baton Kyoto Gion
77-6, 103-2 Sueyoshicho
Higashiyama-ku
Kyoto