Body and soul: Novel Skincare launches botanical and book pairings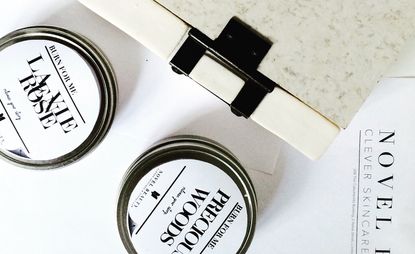 (Image credit: TBC)
It goes without saying that each of us has a favourite skin product, moisturiser or body wash – and enjoy its ritual every other Sunday in a relaxing bath with a good old book (right?). Launching September 2016, Novel Skincare introduces a new collection of products that harnesses just that sentiment. The brand attempts to go deeper than the skin's surface, touching the soul via natural products housed in beautifully crafted tactile books.

The creams, soaps and scrubs are all made from high quality oils and therapeutic plant extracts – with natural antioxidants and moisturising qualities – but what makes this collection unique are the books. Designed around a specific atmosphere and narrative, they're filled with carefully selected body care products. Founder Nneka Fleming says: 'We are interested in the ways personal care affects us all. From the role it plays in how we start our day and the way we feel about ourselves to the effect it has on our skin and the environment. We want to be part of a culture that thinks about the ordinary differently.'

The experience begins with the books' titles – from Poor Man's Rose and Travel Stories, to the intriguing Autobiography. Poor Man's Rose includes chapters such as 'Stream of Consciousness' – manifested as a raw sugar scrub for 'the one thousand and one thoughts of the daily mind' with a sensuously aromatic blend – and 'Platonic Dialogue' – a light day cream that insists you 'find yourself through your own reasoning' thanks to an abundance of vitamins, aloe vera, seaweed, sesame, apricot and geranium rose oil.
INFORMATION
For more information, visit the Novel Skincare website
Image courtesy Novel Beauty Skincare