No place like home: three unusual food delivery services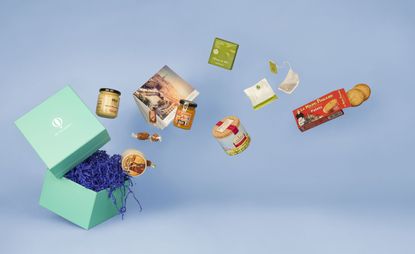 (Image credit: TBC)
Food is set to be the next 'on-demand' industry as big brands like Amazon and Uber are launch their own food delivery services. But why have mainstream when you can go gourmet? There are more specialised food delivery services on offer including the newly launched Supper, which aims to deliver fine dining meals to your door; Try The World invites New Yorkers to try internationally themed ingredients and Breakfastinbed delivers eggs and bagels to pyjama-clad Londoners in just 25 minutes.

Breakfastinbed was created by Jo and Max out of frustration that the weekend was not treated with the full sanctity it deserved. They lived in a house-share where the kitchen cupboards were fair game during the week. This helped shape their mission became to bring people great and healthy breakfasts with ingredients sourced from the New Covent Garden Market. It is so far from the guilt of ordering the more usual take-away pizza: they can even promise good hot coffee and the daily newspaper alongside a weekly changing menu of homemade morning meals.

While some may consider breakfast in bed to be the ultimate luxury, this was not enough for Peter Georgiou. Peter was disappointed upon his return to London from New York to find fine dining could not be delivered straight to your door. This sparked his idea to create a luxury dining delivery service, launched this month, which aims to deliver Michelin starred and other highly respected restaurant services to homes or corporate events. After the coffee and newspaper pairings from Breakfast in Bed, Supper offers the more conventional wine and champagne pairings.

Michelin starred Indian restaurants Tamarind and Benares are among those included in the list. Supper's promise is to deliver orders in the same, often delicate, condition that they left the restaurant in. This is made possible with thermally lined delivery boxes to assist such an ambitious operation.

New York based Try the World is slightly different, founders Kat Vorotova and David Foult collaborate with chefs around the world to find the best foodie souvenirs and send them back to you. If you're the type of person whose favorite part of holidays is touring the food markets, these boxes give you access to that holiday feeling without having to travel.

Each pack comes with a culture guide containing recipes, music and some foreign flicks to settle down to afterwards. This month's box is Spanish themed.
On 26th October 2015 Italian gourmet food company Originàrio is set to launch a similar venture in Europe. Their Italian artisan tasting boxes provide products such as regional cheeses that would otherwise only be found in local farmers markets due tp their small scale production. Though the ingredients in the tasting boxes have been picked up by Michelin star chefs, they have not been widely available to the public outside Italy before now. Founder Sissi Semprini has been joined by food writer and restaurateur Roberta Corradin and chef Luca Zampa to curate these boxes.

Whether you're opening your door to Michelin starred meals, bagels in bed or local produce from next year's holiday destination, around the world lazy dining is on the move.
INFORMATION
For more information:
Breakfastinbed currently delivers from Friday to Sunday mornings in Notting Hill, Ladbroke Grove and the surrounding areas (postcodes W2, W9, W10, W11 and parts of NW10 & NW6), with plans to start weekday delivery and lunch in October.
Supper, available central London
Try The World, Bimonthly $39 a box, available in the US
Originàrio, £52 for a one person box, £86 for two, £160 for a six person box