Force of beauty: new makeup brand 3INA opens first store, in Covent Garden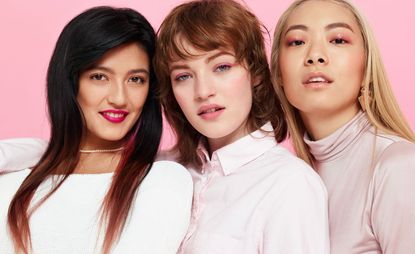 (Image credit: press)
Coating Covent Garden in a fresh array of colours is 3INA (pronounced 'Mina') – a new makeup brand and store by retail experts Pablo Rivera and Mark Eve. From eyes to lips, skincare to nails, '3INA' has launched with a whopping 450 products – all made in Europe – and will continue to release new products every three weeks for endless artistic creativity.

3INA's first campaign is '#LETSPAINT', which encourages women to break out of formulaic beauty molds and invent new methods for expressing and enhancing their own individual beauty. '#LETSPAINT' mixes and matches colour, shades and formulas in the hope of bringing fun and playfulness back into the makeup experience.

Inaugural products include the '3INA Pen Eyeliner' in vivid colours with up to 12-hour wear; the '3INA Longwear Lipstick' with rich pigmentation and a non-drying formula; and the '3INA Matte & Smooth Face Primer' which is perfect for prepping the skin before any makeup routine. With easy application and a lasting period of four days is the '3INA Nail Polish'; and when you're ready to cleanse and rejuvenate your canvas, the '3INA Eyes & Lips Make Up Remover' washes away even the most stubborn products thanks to its shake-to-activate formula.

3INA is also launching with a strong development team. Tom Singh, New Look founder and 3INA investor, and César Perez Luna, a former executive in cosmetics at Sephora and Douglas, help to create the 'real, accessible beauty' of 3INA. MarioTestino+ are brand guardians and oversee and consult on all creative aspects, including brand identity, vision and trends; while Net-a-Porter's Helen McGee also joins as head of marketing. KIKO's Cristina Cobo leads product development with Apple's Toni Minguet, in charge of innovative retail technology, completing 3INA's unstoppable beauty force.
INFORMATION
The 3INA store is now open, with an ecommerce site and an app soon to launch. For more information, visit 3INA's website (opens in new tab)
ADDRESS
3INA
6 James Street
Covent Garden
London, WC2E 8BH