Nendo's new Kuwaiti café is a theatre of coffee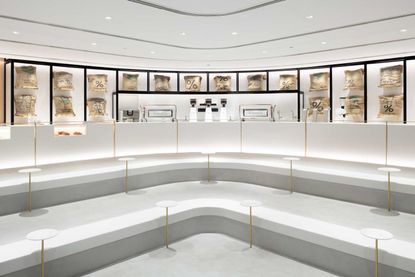 (Image credit: Takumi Ota)
Monikered the 'coffee capital of the Middle East', Kuwait has hit new caffeine heights. Kyoto-based Arabica Coffee has arrived on Kuwait's eastern coast, with its signature clarity and minimalism, as created by prolific Japanese design studio Nendo. Crisp white concrete and coffee machine blend into the background, while brass accents and the linen coffee bags subtly reinforce the quality brew from Higashiyama, Japan.

Due to the limited height of the site, seating has been divided into tiers, with an end result akin to an amphitheatre. This layout is reflected in the shape of the ceiling, echoing the unique form of the café; creating a great social spot. Sacks of coffee beans line the walls, adding a welcome textural element to the otherwise austere interior.

The open plan nature of the space and the lack of chairs creates a motion of interaction between customers and baristas. The unique seating pattern continuing into the external fabric of the building, with additional cascading seating working its way down to street level; creating a dynamic and engaging environment both within and outside the café.
INFORMATION
For more information, visit the Nendo website (opens in new tab), and the Arabica coffee website (opens in new tab)