Blood line: the Michelin-starred Pacauds breathe new life into a Parisian institution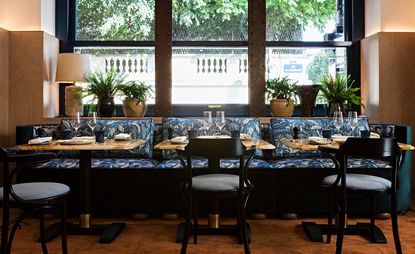 (Image credit: press)
An intrepid culinary adventure embarked upon by a multiple Michelin starred father and son duo lies behind the rebirth of legendary Parisian restaurant Divellec.

Originally opened by chef and fisherman Jacques Le Divellec in 1983, his eponymous seafood restaurant at 18 rue Fabert was a firm favourite with Paris' political crowd and remained so for three decades until, at the age of 80, Divellec hung up his apron for good and retired.

After falling into disuse, Le Divellec opened its doors in August once more following a complete reinvention. Dropping the 'Le' from its name, the new Divellec is helmed by head chef Mathieu Pacaud, Isabelle Saglio and Phillipe Grach.
'When I took the restaurant with Isabelle and Philippe, I had the immediate desire to involve my father in the menu's construction,' says Mathieu of the collaboration with his father Bernard. 'His Breton heart spoke and he accepted. I enjoy working together on the dishes like we did at l'Ambroisie, the family restaurant. I like the idea of a father and son adventure!'

Together the duo, who share six Michelin stars between them, dreamt up a tight but approachable menu of shellfish, crustaceans and vegetables. Raw starters include carpaccios, crystalline ceviche and caviar served with blinis and champagne, while catches of the day are sourced from the markets, prepared to order from a variety of cooking methods and served alongside a menu of vegetables sourced straight from the gardens of the Domaine de Murtoli in Corsica.

The interior, designed by Studio KO – who count the Chiltern Firehouse among its many projects – retains the feeling of a family institution while injecting a new energy; a terrazzo floor made up of large pieces of pink, green, gray and vermillion marbles serves as a backdrop for the pink marble bar, cognac-coloured velvet banquette seating, wickerwork walls and furniture, heavy emerald green curtains and plenty of tropical foliage in the winter garden.

'It's a nave, composed like a succession of arches,' say the designers of the new enlarged space. 'Think Opera house foyer – an homage to the Caffè Florian in Venice. Seated here one can sip a coffee while watching the comings and goings of all Paris.'
INFORMATION
For more information, visit the Divellec website
ADDRESS
18 Rue Fabert
Paris 75007
VIEW GOOGLE MAPS (opens in new tab)