March beauty news: editor's picks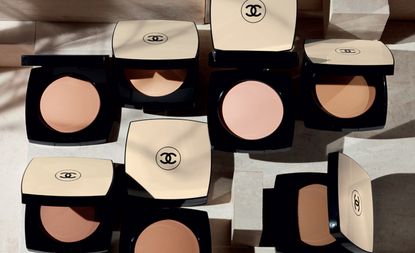 (Image credit: TBC)
Wallpaper* Newsletter
Receive our daily digest of inspiration, escapism and design stories from around the world direct to your inbox
Thank you for signing up to Wallpaper. You will receive a verification email shortly.
There was a problem. Please refresh the page and try again.
Chanel Les Beiges

Les Beiges is Chanel's newest blush range, comprising seven perfectly-pitched colours all within the beige colour scheme, each subtle and natural. The blushers come encased in a pink-beige and black case - a step away from Chanel's traditional all-black compacts.
£38; www.chanel.com

Writer: Romy van den Broeke
Ron Dorff Skin Discipline

Sleek French-Swedish sportswear brand Ron Dorff is moving beyond the gym and into the changing rooms and showers with the launch of a unisex body care line, created in collaboration with Face Stockholm. The Skin Discipline line takes its inspiration from the extreme weather conditions north of the Arctic Circle - all three products each contain a single active ingredient harvested at the latitude of 66° 33' 44". The shampoo contains juniper (known for its strengthening properties), the body wash is enriched with antimicrobial cloudberry seed extract, and the body scrub's active ingredient is energizing Arctic roseroot.

€23–32; www.rondorff.com

Writer: Micha van Dinther
Lipstick Queen Hello Sailor
Experimentation has always been the forté of Lipstick Queen founder Poppy King and her latest release does not disappoint. The self-taught lipstick-maker, who has been an attentive observer of lips and their colours for decades, has produced her most eye-catching lipstick yet. Inspired by the nautical trend of the season, she decided to take it to the next level and celebrate it with an all-blue lipstick. The metallic blue canister in the recurrent streamlined, simple design of the brand, conceals the navy lipstick. Far from being a Halloween-style novelty product, once applied on the lips the light moisturizing formula looks more similar to a soft lip-stain with a light berry shade.

$25; www.barneys.com

Writer: Rosa Bertoli
Baobab

Once considered a clandestine treasure of the remote African savannahs and lush Madagascan forests, the Baobab tree has in recent years become something of a global beauty phenomenon. The towering tree is also known as the 'Tree of Life' (both in its direct translation and essence) due to its ability to provide living things with survival essentials such as food, shelter, water and clothing. The fruits of the tree are a superfood in their own right: rich in vitamin C, Omega-3 essential fatty acids, antioxidant capacities and other anti-ageing properties, they have been proven to possess remarkable beauty and health benefits.

Keen to find out what all the fuss is about, we rounded up the new Baobab beauty products and made our selection of the best. First up, Greek beauty brand Korres' Quercetin and Oak Anti-Ageing and Anti-Wrinkle Eye Cream, both containing Baobab essence to keep skin firm and fresh.

Korres Quercetin and Oak Anti-Ageing and Anti-Wrinkle Eye Cream, £36: www.feelunique.com

Writer: Romy van den Broeke
Baobab

Then there is Dr Jackson's new Face Oil with extracts of Baobab seed oil in it to rejuvenate weather-damaged skin.

Dr Jackson's Face Oil, £55 for 50ml: www.drjackson.co.uk

Writer: Romy van den Broeke
Baobab

Juju have created an entire range of skin care products using the goodness of the baobab tree and offer a refreshing eye serum to the mix.

Juju Eye Serum, $65, www.jujuskin.com

Writer: Romy van den Broeke
Baobab

Last - but by no means least - is the Aduna collection of Baobab powder products, which includes a fruit pulp powder which can be sprinkled onto porridge or into smoothies, and fruit pulp capsules.

Aduna Baobab Fruit Pulp Powder 170g, £17.99; Aduna Baobab Fruit Pulp Powder, for 30 4.5g sachets, £24.99; Aduna Baobab Fruit Pulp Capsules, £22.99, for 90 500mg capsules; www.aduna.com

Writer: Romy van den Broeke
Oskar Pink, London, UK

There is not a steely surface or sterile chair in sight at the new Oskar Pink salon. Located in Mornington Crescent, the boutique's interior oozes creativity and charm, much like founder Stavros Konstantinou. The latest addition to his family of three outposts features whimsical art nouveau murals – all designed and hand-painted by London-based illustrator, Zosienka. The walls are decorated with statuesque herons, an intricate scissor wallpaper and even a portrait of the father of psychoanalysis, Sigmund Freud - representative of the candid rapport many clients hold with their hairdresser. If a welcoming environment is as essential as snipping skills when it comes to choosing a hairdresser, Oskar Pink is definitely worth a visit.

5 Camden High Street, London NW1 7JE; T: 44.207 387 6618; www.oskarpink.co.uk

Writer: Romy van den Broeke
Perricone MD Blue Plasma

One thing's for sure, there's a plethora of skin products on the market promising pretty unrealistic outcomes. Hidden among these seductive serums are some products that actually do work, including Perricone MD's newest invention, Blue Plasma. The serum performs three highly technical-sounding actions – Bio-Digestion (which preserves healthy cells), Micro-Extraction (puts paid to pollution and other causes of skin damage), and Hydro-Fusion (which is all about pumping moisture into the skin). The ingredients also reference old remedies such as copper, which was once traditionally used to heal and repair skin damage.

$95 per bottle; www.perriconemd.com

Writer: Romy van den Broeke
Maria Lux Massage Candles

Netherlands native Lilian Driessen is the talent behind niche clothing and lifestyle brand, Maria Lux. Following the release of the brand's triad of fragrances last year, Driessen has since unveiled matching candles, each corresponding to the set of perfumes in both style and aroma. She enlisted the help of Alessandro Gualtieri – otherwise known as 'The Nose' - to invent the fragrances: 'Truly' embodies floral notes, 'Madly' exudes tuberose, and 'Deeply' emits spicy scents. The candles have also been designed to be used as massage tools, with a grooved exterior to roll across the body, a temperature cap to prevent scalding, and infused shea and almond butters to leave skin feeling supple. After setting the mood and burning the wick a little, extinguish the flame and pour the warm wax over skin to aid the soothing of aches and pains.

£40 per candle; www.marialux.com

Writer: Romy van den Broeke
Aesop-Marimekko Sauna Duet
Aesop are no strangers to applying their aromatic savoir-faire to clever collaborative projects. After joining forces with APC for a fine fabric care program (and later for the humorous post-poo drops), this time they teamed up with Finnish textile brand Marimekko to work on a product for something the Finns do best: sauna. The fir needle Sauna Duet, launching in April, is a combined effort that celebrates the bathing rituals of purification and relaxation. The Body Scrub is a concoction of fine-milled pumice and bamboo extract to finely polish the skin, while the softening Balm completes the job thanks to the properties of vitamins D, E, F and botanical ingredients. The classic Aesop labels got a discreet Marimekko-makeover with a black and white pattern by in-house illustrator Maja Louekari, which is also printed on a canvas pouch that holds the collection together.

£50; www.aesop.com

Writer: Rosa Bertoli
DryBar Buttercup Appliances

The LA-founded Dry Bar has taken the US by storm over the past four years, with outlets opening across the country. It offers clients a menu of 'blowouts' with names that sound more like something that might be shaken or stirred, for example the Manhattan (sleek and straight) or a Mai-Tai (beach hair). Most recently the salon chain has launched a DIY kit consisting of a hairdryer, curler, straightening tong, hair clips and brushes. Available to buy individually, or collectively, these canary yellow hair appliances are in happy contrast to the more usual monochrome offerings in this area.

Buttercup Hair Dryer, $190: Hold Me Hairclips, $16: Lemon Drop Hair Brush, $15: Full Pint Hair Brush, $40: Half Pint Hair Brush, $35 : The 3 Day-Bender Tongs, $125: Smooth Operator, $125: www.thedrybar.com

Writer: Romy van den Broeke
Receive our daily digest of inspiration, escapism and design stories from around the world direct to your inbox
Jack Moss is the Fashion Features Editor at Wallpaper*. Having previously held roles at 10, 10 Men and AnOther magazines, he joined the team in 2022. His work has a particular focus on the moments where fashion and style intersect with other creative disciplines – among them art and design – as well as championing a new generation of international talent and profiling the industry's leading figures and brands.