Lexus celebrates 30 years of forward-thinking design with a new compact SUV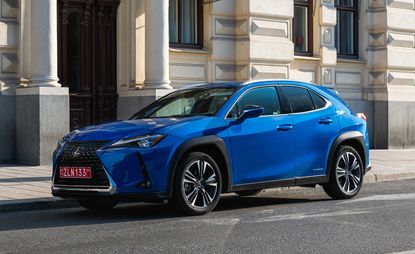 (Image credit: press)
Lexus will celebrate its 30th year as a luxury brand when its latest product, a compact SUV called the UX, goes on sale in early 2019. The upmarket Japanese marque launched by parent company Toyota has come a long way since 1989, first by gaining a reputation for build quality, reliability and customer service in the 90s, then through pioneering eco petrol-electric hybrid technology in the early 00s and latterly, through stand-out design (with the NX, LC and ES).

The new UX develops all of those attributes, as a well-built and very bold design which continues to push the brand's hybrid approach. The latter is a unique selling point in the currently straight-petrol and diesel-dominated compact premium SUV segment (and the UX's nearest rival is the more expensive Volvo XC40 T5 plug-in hybrid not due until late 2019). Proportionally, the UX has a much more hatchback/crossover feel than that more boxy and upright Swedish model too. It's longer than any of its premium compact SUV rivals, lower than all but the Infiniti QX30 and Merc GLA and in the middle of the pack on width; the Audi Q3 is wider, BMW X1 narrower.
Those proportions, alongside a lower seating position than other SUVs, make the UX feel more car-like to manoeuvre. The new 176hp 2.0-litre petrol-electric hybrid powertrain offers brisk acceleration and the direct-shift continuously variable transmission doesn't whine like the older Lexus CT hatchback (the CT will continue to be sold though, the UX is not, as rumoured, its replacement). The driving experience can be enhanced further through Drive Mode Select – a twistable knob unusually situated on the side of the driver display cowl but easy to access – with three settings. Beyond Normal, throttle responses are tempered in Eco, or quickened in Sport and steering feel is increased in the latter mode as well. On F Sport models there are five modes with Sport S, Sport S+ upping the ante again, although too much vigorous driving will dent the UX hybrid's estimated economy (65.7-68.9mpg) and emissions (96-103g/km CO2) for the 17- and 18-inch wheel front-wheel drive models. An electric all-wheel drive version is also available but posts worse eco figures and will only suit those who absolutely need it. The F Sport trim's adaptive variable suspension option – which irons out road surface inequalities brilliantly – is a box well worth ticking though.
The 'Design Pack' is also worthwhile. Adding to an already well-considered, generous and ergonomic front cabin space the pack is set to feature original materials and finishes including a subtle dashboard covering that resembles textured Japanese washi paper and triangular pattern perforations on the leather seats with specific stitching styles which reference similar techniques on Kendo martial arts clothing.

Genuinely original and Japanese in inspiration, all are signs that Lexus is finally embracing its brand's cultural difference. This new-found confidence should bode well for the future of the marque and model. Indeed, Lexus sees the UX quickly becoming its European best-seller with 80 per cent of customers new to the brand. Pricing is not yet fixed before the UX's April 2019 UK launch, but expect a range from £30,000 to £35,000.
INFORMATION
For more information, visit the Lexus website
Guy Bird is a London-based writer, editor and consultant specialising in cars and car design, but also covers aviation, architecture, street art, sneakers and music. His journalistic experience spans more than 25 years in the UK and global industry. See more at www.guybird.com