The stylish Lexus ES joins the saloon stable in 2019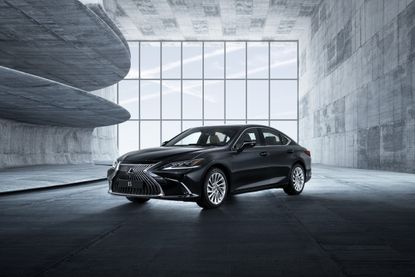 (Image credit: Lexus)
Slowly but surely, Lexus as a brand is making more sense, from newly consistent design to (finally) coming-of-age hybrid technology, especially so, given the dirty cloud of uncertainty that dieselgate has created and still hangs over that particular choice of fuel.

The new ES executive saloon – aimed at rivals including the BMW 5 Series, Mercedes E-Class and Jaguar XF – is Lexus's latest product to reinforce this theory, boasting curvy and full exterior lines, petrol-electric hybrid-only power in Western Europe plus V6 petrol units elsewhere.
The new ES is the seventh generation of the car. The model has been sold since 1989 but this is the first version to be sold globally. Western Europe is a key new market where it will arrive for the first time in early 2019 and where it effectively replaces the slow-selling rear-wheel drive four-door coupe GS.

The ES is front-wheel drive and shares its underpinnings with sister brand Toyota's next Camry (which is also due become a global car again). This new platform allows the ES to be made more cost-effectively while also creating the space for better proportions than the old version. Longer (+65 mm), lower (-5 mm) and wider (+45 mm) it also has a lower bonnet line, a stretched wheelbase (+50 mm) and wheels nudged further to the car's corners. All of which, makes the car look more planted on the road. Cliché maybe, but the changes work. Lexus's signature spindle grille returns and now with vertical bars inside and a much more dramatic shape and curvature. It's a sophisticated front face, enhanced again on the F-Sport model through a wider black cross-hatch pattern to those vertical lines.
The cabin is predictably quiet, comfortable and full of high quality materials – Lexus has been renowned for these attributes for decades – but what is more surprising, aside from the still-fiddly touchpad controlling the infotainment screen – is the big step-up in driving experience. The regular 218hp 2.5 litre, four-cylinder, petrol-electric ES 300h accelerates briskly (0-62 mph in 8.9 secs) and sounds good while doing so, steers with precision, plus offers quick gearshifts via the steering wheel-mounted paddles.

In F-Sport trim Eco, Normal and Sport modes enable more responsive engine, transmission and suspension settings and that trim adds adaptive variable suspension to keep the car steady and poised even over poor road surfaces. The petrol-only 350hp ES 350 V6 is also fantastic to drive, in a similarly contrasting way to the Lexus LC 500 V8 and its hybrid LC500h counterpart, but if you want to benefit from excellent economy and emissions figures for tax and fuel savings (early estimates suggest 60.1 mpg and 106g/km of CO2), the hybrid ES 300h is still the one to go for.

Standard kit and pricing are yet to be confirmed as well, given that the car doesn't go on sale in Europe until early 2019, but expect specification to be high and include the second-generation Lexus Safety System+ with 'daytime cyclist detection' and a range between £36,000 - £45,000 in the UK. Even by then, there will be little on the market to match it – its premium European rivals are still dominated by diesel power and few offer straight hybrids – so Lexus, and its smart new ES could carve out a significant niche.
INFORMATION
Lexus ES, released in Europe in early 2019. For more information, visit the Lexus website (opens in new tab)