Luca Fantin's fine creations for Bulgari bring Italian artfulness to Japan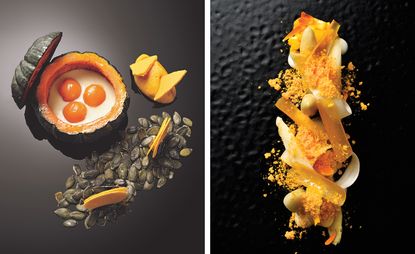 (Image credit: Takao Ikejiri)
On first thought, the parallels between tip-top Japanese and Italian cuisine might not be so obvious. But really, the fundamentals are hiding in plain sight – excellently fresh ingredients, simply served.

It's an equivalence the Italian chef Luca Fantin embraced when he moved to Japan, to head up Bulgari's restaurant at the Ginza Tower in Tokyo. There's no element of fusion at work here though; Fantin's food is Italian through and through, albeit sometimes using ingredients grown in ways specific to Japan – carrots planted under ice, tiny tomatoes cultivated without watering, that sort of thing (he only imports cheese, wine, olive oil and dry pasta). With these, he creates meticulous dishes that look as good as they taste, restrained and seasonal little works of art. It's proven successful; as of 2011 he's been Japan's only Michelin-starred Italian chef.

That, plus an association with Italian luxury brand Bulgari, make Fantin's new tome a welcome inevitability. Bulgari: La Cucina di Luca Fantin is a beast: published by Assouline, the book is a heavyweight dive into Fantin's food and ethos, delineated by seasons and embellished with evocative photography not just of the food but of the Japanese landscape, fish markets, growers (including the frozen carrot diggers) and butchers.

The imagery has been supplied by Takao Ikejiri – he's also shot for brands like Estee Lauder, Burberry and Mikimoto, and his eye for formal, luxurious detail is readily applied to the dishes here – and the food, travel and portrait photographer Andrea Fazzari, who has previously worked with Oscar de la Renta and Gordon Ramsey, among others. This is bookended with essays on Fantin's background and ascent though the global cookery ranks, and the recipes themselves (good luck to the home cook who can do justice to the pictures though). It's more coffee-table art monograph than cookbook, and all the more immersive for it.

Wallpaper* attended the book's London launch, at the Bulgari Hotel in Knightsbridge (it's already been rolled out in Tokyo and Milan). Following an insightful Q&A, Fantin served up an autumnal menu of consistent high points.

From a light tuna tartar laid over ribbons of beetroot jelly, to a cold sea urchin spaghetti (a nod to the Japanese predilection for cold soba noodles, perhaps), seared venison with salsify roots and an unexpected apex of 'fresh milk' – a delicate dairy sorbet/snow rung through with pine nuts, the savoury earthiness of the latter a brilliant foil to the cleansing lightness of the milk.

High end cuisine can occasionally lapse into form over function, but even with food this attractive Fantin clearly has the chops – and the intelligence – to back it up. All in all, La Cucina di Luca Fantin is a magnificent exercise in good taste.
INFORMATION
Bulgari: La Cucina di Luca Fantin, $150. For more information, visit the Assouline website (opens in new tab)
You might also like
Chic peas: new art cookbook charts a history of hummus

On the Hummus Route traces a utopian track between cities, people, markets and dinner tables. It documents street food in nine Middle Eastern cities, including Cairo, Jerusalem, Gaza, Tel Aviv, Jaffa, and Damascus, and in doing so, offers a fascinating insight into the area's design, food, and culture

By Elly Parsons • Last updated
View More ▸