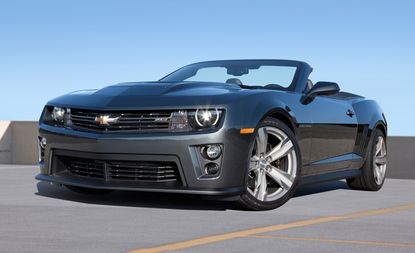 (Image credit: TBC)
Chevrolet Camaro ZL1 Convertible

Chevrolet proved that not all muscle cars are created equal when it unveiled the 580hp supercharged 6.2-litre V8 Camaro ZL1, the most powerful convertible ever made. If it lagged behind the Shelby Mustang GT500 in muscle, it more than made up for it in looks. Chevrolet has spend a great deal of work reinforcing the chassis so performance may get close to its hardtop sibling. Despite looking like it's destined for the drag strip, a Magnetic Ride Control system should mean it can corner properly too. The model is due on sale in late 2012

www.chevrolet.com
If Californians want to drive cleaner and more economical cars you'd have been hard pressed to tell it at this year's 2011 Los Angeles Auto Show. Eco was far from a dominating theme; clean and green got lost amid a show with a distinct lack of electric and hybrid vehicles. If anything, it was the go-faster, high-powered muscle cars and exotics that attracted the most attention, representing a definite shift away from the innovative and eco-friendly vehicle introductions the LA Auto Show has become known for.
In an old-fashioned horsepower fight General Motors' introduced its 580hp supercharged 6.2-litre V8 Chevrolet Camaro ZL1, its most powerful convertible; Ford showed the most powerful Mustang ever, the 650hp 5.8-litre V8 Ford Shelby GT500; and Jaguar showed the droptop version of its 550hp XKR-S sports coupe, the most powerful convertible it's ever made. Unsubtle it may be, but at least some manufacturers had made the effort to make such powerful beasts more fuel-efficient. The Mercedes-Benz ML63 AMG the big, most brutish ML-Class SUV available comes fitted with efficiency improvements including stop/start technology (as does the new Porsche 911 and Porsche Panamera GTS).
Elsewhere, the lightweight trend was not completely abandoned, at least. Porsche and Subaru showed a more intelligent use of power by producing more efficient cars - the new 911 and the BRZ STI concept - thanks to a focus on weight reduction rather than just increasing horsepower.
All in all, one couldn't help thinking that this year's LA Auto Show lacked a theme. But - if we are forced to find one - we could say this: while America's Big Three retreated into a traditional automotive comfort zone firmly rooted in the old horsepower battles of the past, Europe and Asia showed cars that were not only fast and furious but more responsible too. Or maybe - just maybe - Detroit is simply returning to what it does best?

Hot Wheels Chevrolet Camaro
Remember the Hot Wheels cars from your childhood? Here's a full-size, grown-up special Hot Wheels version of the Chevrolet Camaro. Displayed on its own orange track, the concept was inspired by the 1:64-scale 'Custom Camaro' - one of the original '16' Hot Wheels cars released in 1968. To achieve the stirking paint job, GM worked with the Hot Wheels Design studio to create a new painting method by spraying liquid metal over primer before applying layer after layer of green tint. Sweet

www.chevrolet.com
Cadillac XTS

Cadillac's BMW 5-series rival the 2013 XTS certainly looks sharp. Cadillac is chasing younger buyers with its new luxury saloon, which will be available with an advanced Haldex all-wheel-drive system and powered by a twin-turbo 3.6-litre V-6 engine. The most technologically advanced car Cadillac has made, the XTS features the world's fastest-reacting suspension and an infotainment screen in the dash that uses proximity sensing and gesture recognition. It's just a shame it's not quite as elegant as Cadillac claim
Ford Shelby Mustang GT500

The most powerful production V8 in the world, Ford's 650hp 5.8-litre V8 200mph Shelby Mustang GT500 turned a lot of heads at the LA Auto show. The brand added a bigger, more-efficient supercharger to achieve that massive 650bhp, then improved the car's aerodynamics - to maximise downforce and minimize drag - by modifying the front fascia and splitters to keep the car firmly planted on the road. Six-piston caliper Brembo brakes were then added to ensure the new GT500 stops as well as it goes

www.ford.com
Infiniti JX Crossover

Powered by a 265bhp, 3.5-litre V6 engine, Infiniti's seven-passenger JX35 crossover sits between the FX and QX in the Infiniti lineup. With styling influenced by the Essence concept car, seen at the 2009 Geneva show, the JX35 has an unusual D-pillar, sloping roofline and "double-wave" hood. Technology includes a Backup Collision Intervention (BCI) system that enables the car to brake itself if a collision is sensed and an 'Around View Monitor', which can sense objects moving around the car. This should be pretty scary at night

www.infiniti.com
Mercedes-Benz ML63 AMG

Efficiency is acquiring an ever greater emphasis at AMG, Mercedes' in-house performance tuners, which means its new ML63 AMG SUV can also return decent fuel economy of 23.9mpg, a 28 per cent improvement in efficiency thanks to eco tweaks including an Eco start/stop system. Powered by an 525bhp AMG 5.5-litre V8 biturbo engine, 0 to 62mph can be reached in 4.8 seconds. Styling-wise the SUV looks clean and keen and offers cool, fast, family motoring

www.mercedes-amg.com
Porsche 911 Carrera S

Longer, lower, wider, lighter, faster, more powerful, cleaner and more economical, the third installment of Porsche's iconic 911 model, originally introduced in 1963, is certainly an improvement. The manual version has the world's first seven-speed manual transmission system, while the seven speed semi-automatic PDK system now changes gear faster. A new roll control system - called Porsche Dynamic Chassis Control (PDCC) - adjusts the car's stiffness to keep the wheels flat on the ground for faster cornering. The 400hp 3.8-litre flat six engine can accelerate the Carrera S from 0-62mph in a blistering 4.3 seconds

www.porsche.com
Porsche Panamera GTS

Proving again that Porsche will exploit every niche possible, the Panamera GTS slots in to the Panamera range above the 4S and below the Turbo and is the ninth iteration of the four-door supercar. Porsche claims the GTS will be the purist's Panamera, thanks to a 10mm lower suspension setup, upgraded brakes and 30hp more power over the 4S. Power from the 4.8-litre engine is 430hp, which translates to a 0 to 60mph time of 4.3 seconds, all of which should ensure the GTS is the most fun to drive

www.porsche.com
Subaru BRZ Concept STI

New Subaru models are few and far between so the BRZ Concept STI, a car that promises exemplary driving excitement, may just have been LA's car of the show. Developed in partnership with Toyota (whose car is codenamed FT-86, for now) the BRZ is Subaru's first rear-wheel-drive car since 1958. Powered by a non-turbocharged 2-litre flat four 'boxer' engine, the concept has a carbon fibre roof and wheels to reduce weight. Is this the prettiest Subaru ever?

www.subaru.co.uk
Jaguar XKR-S sports convertible

The fastest open top Jaguar of all time, the Jaguar XKR-S is no wobbly droptop. Jaguar's engineers have focused their efforts on ensuring the body is light, stiff and aerodynamic. The new front bumper design has a bigger air intake, while a carbon fibre splitter, new sills and rear spoiler smooth airflow. The result is a Jag that can accelerate from 0 to 60mph in 4.2 seconds. But the roof takes a more pedestrian 18 seconds to close.

www.jaguar.com