Sound bite: Yves Béhar design speaker for Jawbone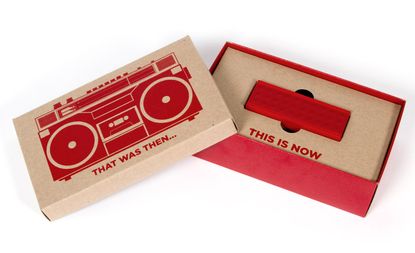 (Image credit: Designed by Yves Béhar)
With a steady stream of personal audio devices flooding into the technology universe, we feel well within our rights to dismiss gadgets that don't look as good as they work. Ticking tech spec boxes while juggling our demands for streamline design is Jawbone's new multi-tasking wireless speaker and speakerphone, designed by Yves Béhar, the Jambox.
Acting as a personal sound conduit for any Bluetooth device you choose from the iPad to your mobile phone, the Jambox allows users to stream and share music, movies and games; while also serving as a pitch-perfect mobile speakerphone - a comforting thought if your only on-the-go option is the crackly phone-conferencing connection on your mobile phone.
Weighing in at 12oz and measuring a mere 15cm in length, the speaker is designed to be above all, completely mobile, but cynics shouldn't fooled by it's diminutive form - its inbuilt technology harnesses a powerful engine, heralded by two powerful acoustic drivers which produce extreme high and low frequencies from an ultra-small dome speaker. The resulting sound produced is a respectable 85db, which, to put it simply, is considerably louder than both city traffic and motorcycle noise, and overshadowed only by thrashing metal of a rock concert.
Technical details aside, the Jambox's stainless steel construction has been simply molded in rubber casing, with all four sides are wrapped in a single grill, adding to its temptingly minimal form.