Highlights from the Concorso d'Eleganza Villa d'Este 2014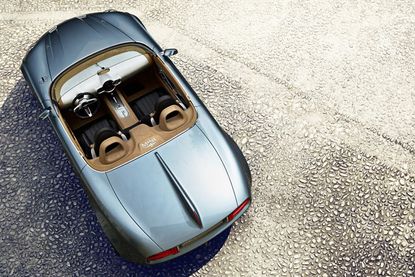 (Image credit: press)
Wallpaper* Newsletter
Receive our daily digest of inspiration, escapism and design stories from around the world direct to your inbox
Thank you for signing up to Wallpaper. You will receive a verification email shortly.
There was a problem. Please refresh the page and try again.
Mini Superleggera Vision
The tiny new convertible EV – aptly named the Mini Superleggera Vision – is a marked departure from the V12-powered, ultra-luxury coupe that the BMW Group presented at Villa d'Este last year. It features a traditional roadster layout, with a long hood and a shorter rear deck, plus very few panel gaps.
Mini Superleggera Vision
Constructed from large sheets of aluminum, the front end factors a pair of traditionally styled Mini headlamps, which sit above a version of the new Cooper's gaping grille.
Mini Superleggera Vision
An all-aluminum product of Milan-based coachbuilder Touring Superleggera, the EV boasts a cabin decked-out in aluminum and leather.
Mini Superleggera Vision
Of extra note is the tiny, Jaguar D-type-style rear fin. And yes, those are Union Jacks inside the tail lights. God save the queen.
BMW 30th Anniversary Edition M5
Surrounded by multimillion dollar Ferraris and one out-of-this-world Fiat Abarth 2000, BMW quietly unveiled its new 30th anniversary edition M5 for 2015.
BMW 30th Anniversary Edition M5
Produced in a limited run of 300 worldwide, this fifth generation super car marks not only the most powerful M5 ever built, but also – with 600 horsepower and 516 lb.-ft of torque – the most powerful BMW production model ever made.
BMW 30th Anniversary Edition M5
Despite its achievements, the M5 features a surprisingly somber frozen silver metallic exterior, its prowess identifiable by only the black chrome '30 Jahre M5' badges that subtly pepper its exterior. Keeping the car grounded, meanwhile, are 20-inch, bi-colour M light-alloy wheels.
Lamborghini Zagato
Although mechanically unchanged, the latest partnership between Lamborghini and Zagato is a one-off super car that not only celebrates the latter's 95th anniversary, but also exemplifies the collecting prowess of its owner, Albert Spiess.
Lamborghini Zagato
Based on the Gallardo LP570-4, it wears such iconic Zagato design cues as the double bubble roof, wraparound windscreen, centrally-positioned intake and side intakes derived from those of the 1996 Diablo-based Raptor concept by Zagato.
Lamborghini Zagato
As an extra alluring detail, a 'floating' roof appearance has been achieved by painting the pillars black.
Rolls-Royce Drophead Waterspeed edition
The iconic British automaker's latest bespoke endeavor pays homage to Sir Malcolm Campbell, the esteemed motor racer who set a world-record speed of 126.33 mph in his Bluebird K3 speedboat on Lake Maggiore in 1937 (his boast was powered by a Rolls-Royce engine, natch).
Rolls-Royce Drophead Waterspeed edition
Fast forward to today, and the Rolls-Royce Drophead, of which only 35 will be built, is outfitted in the aptly-named Maggiore Blue (the engine is painted in the same shade), with a Windchill Grey leather interior complemented by abachi wood accents 'book-matched' at angles to evoke the wake left by a speeding boat.
Maserati Alfieri
Maserati was a winner of the Concorso d'Eleganza Design Award in the Concept Cars and Prototypes category. This is the company's centennial year and it made the right impact at the Villa d'Este. (Even classics were celebrated – the 1956 450S winning Best of Show the following night.)
Maserati Alfieri
Fresh from the Geneva Motor Show in March, the Alfieri is a fully-functional prototype whose name pays tribute to Alfieri Maserati, one of the original Maserati brothers.
Maserati Alfieri
The Alfieri was designed at the Maserati Style Centre in Turin, by a group of designers coordinated by Marco Tencone (itself elaborating on a project by Lorenzo Ramaciotti, now Head of Global Design FCA). A production version should be ready by 2015.
BMW Vision Future Luxury
Fresh from the Beijing Motor Show and making its official European debut, the BMW Vision Future Luxury concept's future remains unclear: a preview of a new 9-Series, perhaps? Regardless, it's a bold statement for the brand's future design language.
BMW Vision Future Luxury
Based on the styling of last year's Gran Lusso Coupé concept, there is no exposed carbon fiber. Instead, BMW uses what it calls 'subtractive modeling' to build various interior pieces like the central tunnel that runs between all four seats.
BMW Vision Future Luxury
The front seat frames are built into the car's side rails and attach to the roof, essentially turning them into thin B-pillars. Outside, BMW's slim laser headlamps sit next to what are absolutely the biggest nostrils ever on a Bimmer.
BMW Vision Future Luxury
Organic LED tail lamps – so chosen because they're thinner and don't require reflectors – dress up the rear.
BMW Concept Roadster
The term 'Concept Roadster' may equate to sleek, two-seat convertible for you and me, but BMW thinks differently. This is BMW's two-wheeled take on the i8 coupe: a pared-down, minimalist motorcycle whose ultramodern design – note the strip of LED headlights – underscores the retro attractiveness of the Concept 90 that debuted last year at Villa d'Este. Its near-skeletal chassis is beautiful, but parked underneath is a two-cylinder boxer engine producing 123 horsepower and 92 pound-feet of torque shot straight through the rear wheel. Its industrial prowess is undeniable, but it's nice that BMW wrapped the seat in Alcantara for some semblance of comfort – it's just a shame it won't be available anytime soon.
Receive our daily digest of inspiration, escapism and design stories from around the world direct to your inbox
Melina Keays is the entertaining director of Wallpaper*. She has been part of the brand since the magazine's launch in 1996, and is responsible for entertaining content across the print and digital platforms, and for Wallpaper's creative agency Bespoke. A native Londoner, Melina takes inspiration from the whole spectrum of art and design – including film, literature, and fashion. Her work for the brand involves curating content, writing, and creative direction – conceiving luxury interior landscapes with a focus on food, drinks, and entertaining in all its forms